Lightning Strikes, Then Finals – AFLCNE
Friday, July 14 2017 @ 08:53 pm ACST
Contributed by: Wesley Hull
Views: 723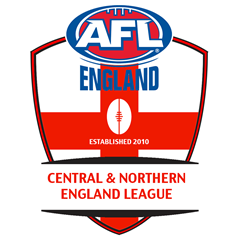 The final matches of the AFLCNE home and away season will be played this weekend in Nottingham when the Scorpions host the third and final Lightning Round. The matches will determine the final placings for the season before the finals series over the last two weekends in July.
Whilst there is interest in which team will finish on top of the ladder – currently the Mozzies are two points and a big percentage ahead of the Scorpions – it is the battle for the last finals place which will have the league buzzing. Currently the Huddersfield Rams hold fourth place ahead of the Tyne Tees Tigers. Should the Tigers win enough games in Nottingham to pass the Rams it will be an historic event. It would mark the first finals campaign for the Tyne Tees Tigers. It will be a tall order, playing against the Rams, Mozzies and Wolverines, but they will throw everything at the chance.
Either way it is a landmark year for the Newcastle based Tigers with either a premiership semi-final on offer or a Plate final guaranteed at least.
The Wolverhampton Wolverines are safe in third place and barring miracles will stay there. Then there is the battle for the wooden spoon with the Sheffield Thunder boys 2 points ahead of the Merseyside Saints. Neither team has enjoyed a great season, but the final round is sure to offer incentive for both to play their hearts out.
Recent results have seen:
Lightning Round – Merseyside Saints
Wolverines 8 5 53 d Saints 2 6 18
Wolverines 9 9 63 d Scorpions 6 6 42
Rams d Thunder (forfeit)
Rams 12 6 78 d Saints 1 5 11
Scorpions 13 9 87 d Rams 3 5 23
Saints d Thunder (forfeit)
Tigers d Thunder (forfeit)
Mozzies 11 5 71 d Wolverines 6 4 40
Mozzies 10 3 63 d Saints 1 4 10
Round 7:
Nottingham Scorpions 21 13 139 d Wolverhampton Wolverines 9 12 66
Tyne Tees Tigers d Merseyside Saints (forfeit)
Manchester Mozzies d Sheffield Thunder (forfeit)
Huddersfield Rams (bye)