IC17 Preview: Northern Lights to defend their IC title.
Thursday, July 20 2017 @ 05:38 am ACST
Contributed by: Harley Vague
Views: 2,373

Canada's Northern Lights are currently the women's Australian Football International Cup champions having defeated Ireland in the 2014 International Cup.. They are ranked 2nd outright behind Australia and must be considered favourites for the IC17 title.
The Northern Lights won in 2014 Melbourne when Canada, like the U.S.A, took two women's teams to the International Cup. Canada's second team the Midnight Suns finished 4th behind the U.S.A.'s first team, the Freedom. That shows the depth of talent in Canadian women's football.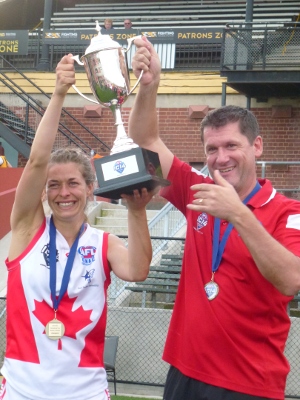 Canada boasts 9 women's football clubs nationwide. Youth girls development programs operate in Alberta, British Columbia, Ontario and Quebec. The national team, formed in 2007, is known as the "Northern Lights" but they were formerly known as the "Eagles". The Eagles first competed in women's international football matches during 2007, when they lost twice to the USA Freedom.
In 2011 the national women's team competed in the inaugural women's division of the Australian Football International Cup, where they came second to Ireland.
In 2014 the Northern lights became International Cup champions when they reversed the result and defeated the Irish Banshees at the AFL International Cup.
In 2015 the Northern Lights continued their dominance and defeated the USA Freedom to win the annual 49th Parallel Cup. (Ed. Not without controversy which may or may not be forgotten going into this tournament)
The Country and Australian Football.
One of the world's largest countries by area, Canada in many ways shares a lot in common with Australia. Both are a mixture of productive and sparse inhospitable lands and both have a relatively small population living around the their country's extremities. Even climates are similar in being extreme in places if in opposite temperature directions. Both countries have moved on from events of original European colonization over indigenous populations and whilst both have strong friendship with the USA and are both heavily influenced by the U.S.A., both countries would consider themselves more attuned to the modern Commonwealth in outlook.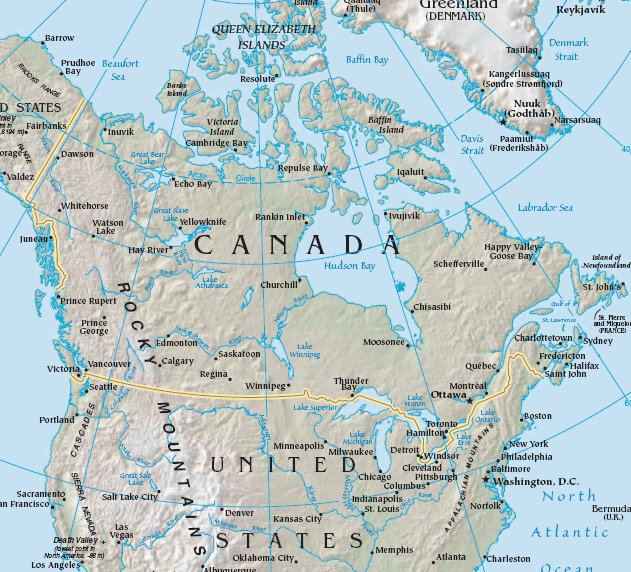 In 2008 Edmonton formed the Emu's women's team with the men's team, the Wombats, being formed in the following year of 2009. The Emus compete against two teams from Calgary in the AFWL, the Alberta Women's Football league. Calgary's singular women's football team is known as the Kookaburras. In B.C., Vancouver has two women's teams in the Vixens and the Wildcats.
AFL Quebec has three 18-a-side women's teams. These teams are known as the Quebec Saints, Montreal Angels and Ottawa Lady Swans respectively whilst the women's league consists of four clubs, the NDG Devils and the Plateau Eagles from Montreal and the Carleton Warriors and Rideau Shamrocks from Ottawa.

2012 saw the AFL Ontario women's division double in size to 6 teams competing, Broadview, Grand River, High Park, Hamilton, Etobicoke and Central Blues. More recent expansion has been out West.
Strengths and Weaknesses.
The Northern Lights are preparing solidly in defence of the world title. At the end of 2016 Team Canada had an inter-provincial tournament with players representing either Western or Eastern Canada with a view to national selection.

In May 2017 The Midnight Suns sent a development team to the U.K. to play against the Great Britain Swans, Irish Banshees and London All-stars. Aimee Legault went along as a playing assistant coach.

In June 2017 in the annual Kelowna Cup, a combined Vancouver Vixen/Wildcat team contested a combined Alberta Calgary/Edmonton team in women's football.
It would be hard to find any weaknesses to the Canadian team that is better prepared than their 2014 championship team. The time gap of three years is arguably too big for a "premiership hangover" and complacency is the only possibility. Other teams have improved greatly but probably not so much at the top.
The Team
No
Name
DOB
HT


cm

WT


kg

Home club
1

Nicole ROBERTSON

12/07/1993
167
75

Calgary Kookaburras

2

Lyndsay SMITH

9/10/1983
163
71

Calgary Kookaburras

3

Leslie GURBA

25/10/1984
160
52

Calgary Kookaburras

5

Valerie MOREAU

24/11/1991
155
59

Montreal Angels (Eastern Devils)

6

Margo LEGAULT

26/10/1978
167
80

Montreal Angels/NDG Giants

7

Brandie CORRIGAN

17/04/1990
167
76

Edmonton Emus

8

Nicola KIRWAN

29/10/1987
176
66

Etobicoke Kangaroos

9

Renee TONG

9/04/1990
157
56

Vancouver Vixens

10

Aimee LEGAULT

22/04/1985
165
60

Montreal Angels/NDG Giants

11

Amanda IRWIN

17/03/1984
172
73

Etobicoke Kangaroos

12

Hilary PERRY

13/08/1986
168
68

Calgary Kookaburras

13

Danah ARNOLD

14/09/1974
168
75

Edmonton Emus

14

Chantal BEAUDIN

13/12/1986
158
58

University of Queensland

16

Tricia ROLFE

17/10/1978
172
62

Calgary Kookaburras

17

Erin REGAN

25/08/1986
170
75

Vancouver Vixens

19

Jaya AULAKH

9/02/1997
172
54

Westcoast Wildcats

20

Jaclyn HALLIDAY

7/03/1990
173
68

Hamilton Wildcats (Eastern Devils)

22

Candace KWAN

1/06/1985
155
77

Hamilton Wildcats

24

Lara HILMI

2/12/1986
168
75

Etobicoke Roos

25

Lia VANSEVENANT

25/08/1992
168
81

Hamilton Wildcats (Eastern Devils)

26

Alanna ROBERTSON

14/10/1990
167
66

Calgary Kookaburras

27

Lise KIEFER

17/07/1989
158
56

Hamilton Wildcats

29

Caroline IRELAND

29/05/1988
166
61

Calgary Kookaburras

31

Vivian NGUYEN

6/03/1986
165
58

Ottawa Swans

32

Sarah ENNOR

14/02/1979
172
70

High Park Demons

33

Rebecca GOMEZ

17/02/1984
177
70

Ottawa Swans

34

Kirsti OJA

27/05/1988
176
66

Calgary Kookaburras

35

Caroline LEDUC

10/07/1990
165
56

Montreal Angels/NDG Giants

37

Charnelle WILLIS

20/04/1991
167
57

Edmonton Emus (Nth Cairns)

38

Patricia JAWORSKI

22/12/1978
180
82

Calgary Kookaburras
Players to Watch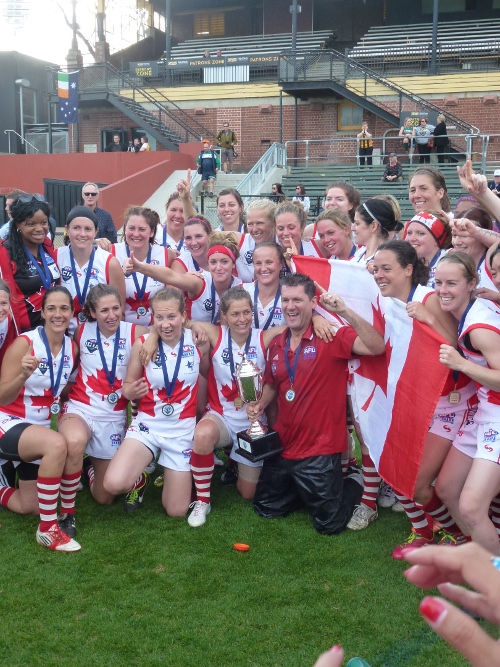 Vivian Nguyen - 2016 Best & Fairest, Ottawa Swans and Runner Up, AFL Quebec. Former rugby player.
Caroline Ireland – dangerous forward for the Calgary Kookaburras.
Charnelle Willis - Since 2014, Charnelle has stayed in Australia to travel and play. Last season, she played with the UTS Shamrocks in Sydney and they the division 1 Grand Final. Currently with the North Cairns Tigers.
Erin Regan – strong ex-rugby player from the Vancouver Vixens.
All players and full profiles can be seen here http://websites.sportstg.com/club_info.cgi?c=1-7259-119893-0-0&sID=394692
Form Guide and Bottom Line.
Canada has a proven team in the Northern Lights and depth in the Midnight Suns (who recently competed in London). They have experience joined by an influx of new competitive players provided by the boom in women's football in Western Canada. They have been preparing well for a long time and they should be improved upon 2014 and all the better for 2017.
Who is Canada's main opposition ?
2. Ireland will again be the main opposition with strong performances in Europe.
3. The USA will be a definite improver but probably not enough to close the gap.
4. PNG could be a surprise (with a big increase in participation) in their return to women's international football.
5. Fiji is another country that has had a large increase in participation and should be an improver.
6. Britain have prepared well and they also could be a surprise if they make it to international competition.
CANADA Womens Division Round 1-3 match schedules with Eastern/Pacific Timezones
Sun 6/8 vs Fiji (Ransford Oval) 10:30am/8:30pm(Sat) Eastern/5:30pm(Sat) Pac
Wed 9/8 vs Pakistan (St Francis,Officer) 10:45am/8:45pm(Sat) Eastern/5:45pm(Sat) Pac
Sun 13/8 vs Great Britain (Diamond Creek) 12pm/10pm(Sat) Eastern/7pm(Sat) Pac