AFLX – The International Australian Rules Football Revolution
Thursday, June 22 2017 @ 01:00 pm ACST
Contributed by: Wesley Hull
Views: 1,708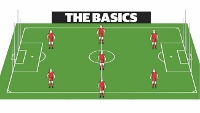 Herald Sun journalist, Chris Cavanagh, has reported on the new style of Australian Rules football to be experimented with at season's end. Loosely referred to as a "Twenty 20" version of the game, the AFL is looking closely at this format assisting in the development of the game in overseas markets. The move is sure to create conjecture and only time can tell if the game will have the proposed and hoped for merit. The following story from Chris gives the first hints.
THE AFL is reportedly preparing to launch a Twenty20-inspired version of the game later this year which is seen as the answer to opening up international markets.
After months of secret trials, AFLX — a high-octane, seven-a-side version of football played on soccer-sized grounds with quarters shortened to 10 minutes — is being slated to be shown off to fans on the pre-finals bye weekend this year.
The AFL says it is looking to showcase the new version of the game between the best players from teams that miss this year's finals series.
Prizemoney and incentives are being discussed while matches which could be televised nationally on Fox Footy.
The Herald Sun reported in February that Port Adelaide was putting its weight behind the AFLX concept as it looks to grow the game in China.
"We've had Auskick and AFL approved by the Chinese education department in Beijing to be an approved sport to play at school," Power chairman David Koch said.
"So they're massive steps forward for us to try the game up there. But it's all about the field and that's why sevens is a way better option."
AFL football operations boss Simon Lethlean told the Herald Sun at the time that AFLX had a point of difference that could attract new fans.
 "Any time you can get the best players playing in a different, fun format, I think it's shown it can be successful in other sports and we think our product's as good as everyone's so we're trying to find different ways and options to play," he said.
The AFL trialled the concept with North Melbourne during the pre-season and made adjustments after a series of further practice matches between players from VFL sides.
Port Melbourne coach and former Hawthorn champion Gary Ayres was part of the trials and said in March he was a fan of AFLX.
"It is very, very fast. It's very much about high-scoring, fast play," he said.
"If you get burnt on a turnover or a poor kick or poor decision, generally you get scored against and scored against very quickly. It's a bit like (the ball is) up one end one second and then up the other end in another.
WHAT IS AFLXω
PLAYED on a soccer-size pitch. Trial games have been played between teams of seven players, with three on the interchange bench.
ONE umpire, no centre bounces and kick-ins from full-back after each goal.
QUARTERS last 10 minutes.
Original Herald Sun story can be found at: http://www.heraldsun.com.au/sport/radical-new-concept-aflx-set-to-be-launched-on-prefinals-bye-weekend/news-story/b5e9e355fe67cb24dc0cf9e4320c07a0#itm=newscomau%7Csport%7Cncam-story-body-link%7C3%7Chttp%3A%2F%2Fwww.heraldsun.com.au%2Fsport%2Fradical-new-concept-aflx-set-to-be-launched-on-prefinals-bye-weekend%2Fnews-story%2Fb5e9e355fe67cb24dc0cf9e4320c07a0%7Cstory%7CAFLX%3A%20Footy%20revolution%20is%20here&itmt=1498101706582
Image: Herald Sun