Austrian Leg Of CEAFL Tournament Decided In Graz
Monday, June 19 2017 @ 10:12 pm ACST
Contributed by: Wesley Hull
Views: 1,418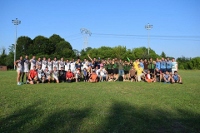 The second round of the 2017 CEAFL tournament was completed on the weekend in Graz, Austria. Played at the Viktor-Franz-Platz, the competition featured five teams from four European countries with teams from host nation Austria, two from Croatia, and one each from Italy and the Czech Republic.
Austria's own super-club, the Styrian DownUnderDogs took on the might and determination of the Sesvete Double Blues and Zagreb Cvjetno Dockers from Croatia, the Prague Dragons from the Czech Republic and the North West Footy Eagles representing AFL Italia.
The Croatian teams dominated the round robin matches to the extent that both the Blues and Dockers went through to meet each other in the Grand Final. Whilst the Dockers had a narrow win against the Blues, by four points in the round robin stage, the Blues were far too strong in the return bout to take the title by a commanding 34 points. In the battle for third place, the DownUnderDogs defeated the Eagles comfortably by 21 points.
The grand final result reverses that of the first round played two weeks earlier in Milan, Italy, when it was the Dockers hanging on in a tight finish to claim the tournament. After scores were tied at the final siren, 33 points apiece, it was the Dockers' composure in extra time which ultimately saw an 18 point win.
Results of the CEAFL 2017 Round 2 in Graz:
Game 1: Dogs - Eagles: 5 7 37 to 3 3 21
Game 2: Blues- Dragons: 11 5 71 to 1 2 8
Game 3: Dockers - Eagles: 6 8 4 to3 3 21
Game 4: Dogs - Dragons: 7 10 52 to 2 2 14
Game 5: Dockers - Blues: 7 4 46 to 6 6 42
Game 6: Eagles - Dragons: 8 5 53 to 3 8 26
Game 7: Dockers - Dogs: 8 5 53 to 2 5 17
Game 8: Blues - Eagles: 8 7 55 to 1 5 11
Game 9: Dockers - Dragons: 13 7 85 to 3 2 20
Game10: Blues - Dogs: 8 7 55 to 3 4 22
3rd Place Match: Dogs - Eagles: 4 12 3to 2 3 15
Grand Final : Sesvete Blues defeated Zagreb Cvjetno Dockers: 9 10 64 to 4 6 30