Redbacks Bring Down Lions
Wednesday, June 14 2017 @ 01:06 pm ACST
Contributed by: Wesley Hull
Views: 1,413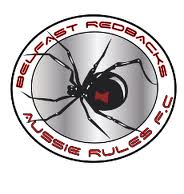 The Belfast Redbacks have enjoyed a huge day for the club after the Round 5 and 6 matches last weekend at Bushy Park, Terenure, Dublin – home of the South Dublin Swans. Not only did the Redbacks win both of their matches to jump into second place on the ARFLI ladder, they also discovered the blueprint to bringing down the powerful Leeside Lions, previously undefeated.
The Redbacks started their day with a strong win against the Galway Magpies. It was a perfect start for the Belfast team, recording a 32-point win. The final score saw the Redbacks down the Magpies 57 to 25. It was a great way to build self-belief and it showed in their next match.
The Leeside Lions would have been favoured to win the match against the Redbacks, based on their form to date, but the boys from Belfast had other ideas. In a tight tussle it was the Redbacks who held the answers at the business end of the match to record a hard-earned but proud 14-point win over the Lions. The final scores saw the Belfast Redbacks 34 defeat the Leeside Lions 20.
Host team, the South Dublin Swans, took centre stage when they played their first match of the day against the Galway Magpies. In the tightest match of the day, and a high scoring match from both sides, the wans won the match by just four points in a thriller. The final score saw the Swans 58 defeat the Magpies 54.
The Swans would have been high on confidence going into their final match of the day when they took on the Leeside Lions. But the Lions, stung no doubt by their loss earlier to the Redbacks, had other ideas – running out 19 point winners to claim a victory from the day and keep a solid break on the rest of the field on top of the ladder.
After six rounds of the ARFLI season, the Leeside Lions sit at the top of the ladder on with five wins from six matches. The Redbacks, after their two wins in Dublin, sit second with three wins. The South Dublin Swans climbed off the bottom rung of the ladder with their win against Galway and sit third, with the Galway Magpies sitting at the base of the table on percentage but equal on wins with the Swans.
Leeside Lions 21
Belfast Redbacks 15
South Dublin Swans 12
Galway Magpies 12