Brianna Davey Answers Canadian Call
Sunday, June 11 2017 @ 05:00 pm ACST
Contributed by: Wesley Hull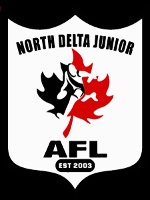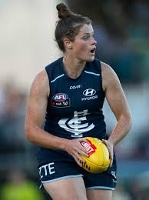 Brianna Davey, one of Carlton's marquee players in the AFLW, has agreed to become the International Ambassador for the North Delta Junior AFL in southern Vancouver, within British Columbia, Canada's westernmost province.

The 22-year old Carlton star was vice captain for the 2017 season and took out the club's inaugural best & fairest award. Additionally, Brianna received All Australian honours as well as a number of media awards

President of the NDJAFL, Mike McFarlane, stated that "we are pleased to have Brianna join our league as the International Ambassador. It brings another level to our league and gives our kids more exposure to quality football people as Brianna is one of the top women's players in Australia."

The opportunity came about through close family connections, but as Mike says, "while the scope of what Brianna's involvement will be [is still being developed], at first we will connect her to our web-site so the kids can ask her questions and we are hoping to maybe have her post tips for improving the kid's skills."

"We are working on connecting her with the Northern Lights when they are in Melbourne for the International Cup. We see this as an evolving partnership as both parties feel their way through this. I think Brianna is a great addition to our league and helps us celebrate 15 years of junior footy in North Delta."

Mike McFarlane set up the NDJAFL back in 2003 after having been a junior soccer coach. With a great footy pedigree (his uncle being three times Brownlow Medallist, Bob Skilton) it didn't take long for Mike to invite local kids to try the Australian game First father/daughter combination to represent Canada – A world first, too?.

Mike's daughter, Hannah, has also achieved enormous success in Canadian women's football, recently having been a part of the Canadian Midnight Suns women's development team at the recent London Footy Carnival. Footy has certainly been in the family.

The addition of Brianna Davey to the development of the game in North Delta, and, by extension, the further growth of the game across Vancouver and ultimately Canada.

Comments (0)
---
World Footy News
http://www.worldfootynews.com/article.php/20170611170046282