"Dreamtime By The Sea" – Indigenous Round In Far North Queensland
Sunday, May 28 2017 @ 05:15 pm ACST
Contributed by: Wesley Hull
Views: 907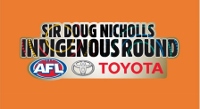 The glittering northern sun shone down over Holloways Beach – a northern suburb of Cairns – as the footy community descended on the oval for the annual "Dreamtime By The Sea" match. Played as a part of the nationally recognised Sir Doug Nicholls Indigenous Round, local club Cairns City Lions hosts the North Cairns Tigers – two Cairns clubs with strong indigenous connections.
Even the wind offered a conciliatory tone, blowing strongly across the ground to promote unity – both clubs will be united by having no wind advantage!
After a Youth Girls clash between the Lions and Tigers, a Senior Women's match between the Manunda Hawks and North Cairns Tigers, and a reserve Grade curtain-raiser between Pyramid Power and the Tigers, the teams came together for the acknowledgement of country and a stirring didgeridoo performance by locally renowned musician Gary "Creeky" Creek. Then, the battle was on.
As the Cairns City Lions and North Cairns Tigers went to work honouring the immense contribution of indigenous footballers, and by extension people and communities, to the game, Lions' club vice-president Mick Taranto spoke of the value of the event to his club and the game.
"[We are] really looking forward to today's game. [The game is] good for the culture, good for the indigenous people, good for locals and good for spectators. It is good overall."
Mick agrees that the indigenous players rise to the occasion and states, "and with the non-indigenous players as well, they grown a foot taller and come out blazing. In 2017 this game is possibly more important as it builds a platform for our club's future. We get together and bond. We have had many indigenous players at the club and they have helped bring the club together. As a club we strive for pride and respect for each other…that's what makes this club bond."
Toby Fatnowna is part of the leadership group at the Cairns City Lions. "It means a lot, not just for the club but for all indigenous players who are participating today, especially as we have great history of indigenous players that have paved that pathway for us."
"This day is often seen as being about the Riolis and Franklins but it is so important that it is celebrated right down to the grass roots, and we want to aspire to be like them and maybe become the Riolis of the future like the players that have come through here like the Cockatoo-Collins. There is a sense of pride at this club and we are seen as the underdogs and write-offs but like I have done on the jumper I designed that I wear today, we are boomerangs – we come back. A day like today helps us go forward and we could turn a few heads today depending on how we perform but today means more than that. It's deeper."
Iaon Drake is the senior coach at North Cairns Tigers. He, too, has a strong sense of pride and power that resides within this event. "It's an honour to play in a game like this, to celebrate our indigenous players, not just here in Cairns but all over Australia. I'm from Tasmania and we had indigenous players playing with us there, but to come up to Cairns and to see the culture here through the indigenous people and the islanders is amazing."
"Both of our clubs have a strong indigenous background as well. Our captain is indigenous, one of our young club leaders is indigenous, so it's really just part of the football culture in Cairns. I think they do rise to this occasion [the players], especially our indigenous boys. This is their showpiece for the year. They really step up to the plate for this game – it's very special for them, it's their day of the year, and we help celebrate that as well."
"It gives young players something to strive for, something to aim for to be a part of a game like this. To come from juniors, play reserves, play seniors and be a part of the dreamtime game. So it is important to educate our young people and give an opportunity to be a part of this game."
"These boys are proud of where they come from and their heritage. It is really important to have these days and celebrate with them. It means a lot to them, it's basically like a grand final for these boys."
Travis Thorne, captain of North Cairns Tigers, agrees with his coach. "Yeah, it is a special day. There's not many days you can celebrate your heritage and your culture. Both clubs take this day by the scruff of the neck. It is a good concept and hopefully it grows every year. These boys are front and centre for the day and for the week and we try to talk the occasion up a bit."
"Some of the boys get pumped and step and show their talent. We are fortunate enough to play two great games a year – ANZAC Day and Dreamtime – and we can try to recruit by selling those things about playing for our heritage and our culture."
This year for the first time, Gordonvale-based club, Pyramid Power, we able to be a part of the day. With a playing group at the club which is over 90% indigenous across juniors and seniors, the day offers a great chance for the club to be a part of something truly special. Club president Jim Floyd admits that "it is a special day to be involved with this – fantastic weather, fantastic day to be involved with the Sir Doug Nicholls Indigenous Round. To have Lions and Tigers involved we have a good cross-section of the indigenous players involved up here. It's terrific."
"The indigenous boys come together like brothers and for us it's a drawcard to have those boys involved in our team and they get more and more involved which is fantastic. One idea we have had for a while for Pyramid Power as part of the Indigenous Round is to have a local carnival and get clubs and teams from across the country to come and join in."
Pyramid Power player, Clinton Sullivan, was happy to consider specific skills that indigenous players bring to the game. "[We are] bringing in our speed, our stepping skills our handling, pretty much everything – I picked up the game pretty quickly and I think any indigenous player would pick it up because it's in their blood.
When asked if one day the league will hear of the Sullivans like we do the Riolis and Franklins, Clinton said "Yeah, one day. Don't worry about that!"
Perhaps, fittingly, the final word rests with Tommy Mooka. He has played this "Dreamtime By The Sea" match for all three clubs. Originally with North Cairns Tiers and then Cairns City Lions, Tommy is now an on-field mentor for the young Power team.
"[This game] means a lot to us because it's the only match that we [indigenous players] get recognised in. AFL Cairns made something for us, I'm not too sure who made it but I've played in four of the last five…this is my fifth one. "Dreamtime By The Sea" is important for us because before any kind of Christianity or other religions our ancestors were always there, dreamtime was always there. It's a big part of all the artists out there and their designs out there and we want everyone to have a good day."
"I feel a bit bigger on the day because it's a day that is for us and we shouldn't be flat on that day, we should be out there giving it our all."
"It doesn't matter what colours we are, where we come from, what is our background - on the day if you are part of the team and pulling on that indigenous jumper you are just as equal as everyone else. So it's great that the non-indigenous participate in our indigenous day. Same with our supporters – we wouldn't have a day without them."
When asked if the addition of Pyramid Power to the day is good for the future even though it is Lions/Tigers day, Tommy says, "Yeah, a new team, a new indigenous team would be great to see them in their own little competition – "Dreamtime By The Pyramid". Maybe speak to the elders and get the story of Djarragun, yeah it would be deadly…it would be good to see Pyramid Power in a competition like this on this day."
But his final line really sums up the day in very simple language. "My goal for today is to get out there give it my all, represent where I come from and play footy with my friends and kick a few goals."
A great way to summarise the "Dreamtime By The Sea" match, and maybe symbolic of similar matches played around the country as part of the AFL's Sir Doug Nicholls Indigenous Round.