Kingdom Kangaroos Break New Ground – AFL Scotland
Monday, May 22 2017 @ 10:48 am ACST
Contributed by: Wesley Hull
Views: 1,228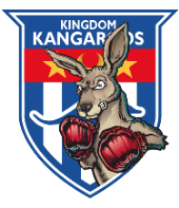 In their Round Four match last weekend, the Kingdom Kangaroos won a landmark match for the club when they defeated the Edinburgh Bloods. Since joining the SARFL competition back in 2013 the Kangaroos had managed to jump many hurdles along their journey – but beating the bloods wasn't one of them.
But after a solid four quarter effort, the Kangaroos prevailed, downing the Bloods by a resounding 45 points – 96 to 51. It marks an historic milestone for the Kingdom Kangaroos as they now know they are capable of beating any other team in the competition. Their win at Beveridge Park, Kirkcaldy, also sets them up well in the race for this year's SARFL finals.
Last weekend, in the Round Three clash, the Greater Glasgow Giants outlasted a gallant Glasgow Sharks in a replay of last season's grand final. For the second consecutive round, the result was decided by less than a goal (the Bloods downed the Sharks by two points in a thriller in Round Two).
After another tightly fought contest, the Giants held on to record a 9 12 66 to 8 15 63 victory, downing their Glasgow rivals the Sharks by just three points at the GHA Rugby Club fields in Glasgow. It was a heartbreaking result for the Sharks, going down by less than a goal in consecutive matches.
The Round Five clash will see the Greater Glasgow Giants take on the Glasgow Sharks on June 3rd, followed by the Edinburgh Bloods hosting the Kingdom Kangaroos on June 10th.