Demons Secure Top Spot – AFL London
Saturday, May 20 2017 @ 09:12 pm ACST
Contributed by: Wesley Hull
Views: 847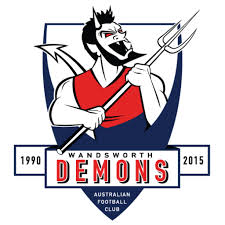 The Wandsworth Demons remain the only undefeated team in the AFL London competition after just two rounds of the 2017 season. After a tight tussle with the North London Lions, the demons held on for a 15-point win. Final scores saw the Wandsworth Demons 10 10 70 defeat the North London Lions 7 13 55.
The West London Wildcats have hit back hard after their first round loss to trounce the Wimbledon Hawks. Their 138-point thrashing of first Round winners, the Hawks, sent a nerve-jangling message to the rest of the competition that the Wildcats are very much the power they always are. Final siren saw the West London Wildcats 25 21 171 defeat the Wimbledon Hawks 5 3 33.
It was a happy day for the London Swans as they held on in a thriller to defeat the South East London Giants by just seven points. The Swans needed the win to stay with the leading group and did not let their fans down. However, the narrow loss for the Giants showed once again that they can compete well in the Premiership Division – their second solid game in a row. Final score saw the London Swans 8 8 56 defeat the South East London Giants 6 13 49.
Round Three (played alongside the London Footy Carnival) will see the Wimbledon Hawks take on the undefeated Wandsworth Demons, the South East London Giants clash with the North London Lions and the London Swans wrestle with the dangerous West London Wildcats.
Ladder:
Wandsworth Demons - 2 wins, 0 losses
West London Wildcats - 1 win, 1 loss
North London Lions - 1 win, 1 loss
London Swans - 1 win, 1 loss
Wimbedon Hawks – 1 win, 1 loss
South East London Giants – 0 wins, 2 losses