London Footy Carnival 2017
Saturday, May 20 2017 @ 08:34 pm ACST
Contributed by: Wesley Hull
Views: 1,030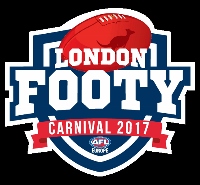 The GB Bulldogs have handed out a big defeat to the AFL Canada men's team – the North Stars – in the opening men's match of the London Footy Carnival. The GB Bulldogs 15 19 109 kept the North Stars scoreless. In the opening women's match between the Canadian Midnight Suns team won their opening match of the tournament kicking 7 7 49 to defeat the London All Stars team 3 3 21.
The event in 2017 boasts four nations being represented – England, Ireland, Wales and Canada – as well as the GB Bulldogs and GB Swans. Clashes between Great Britain and Canada can be traced back to the first match in Toronto in 1993 when Canada won 19 7 121 to 7 7 49. Since that match, the nations have clashed on five other occasions with the results being three wins apiece.
The tournament, played at venues across London, features the GB Bulldogs, Canada North Stars, Welsh Dragons and London's own Wandsworth Demons in the men's tournament. The women's draw sees the Canada Midnight Suns, GB Swans, London All-Stars and Irish Banshees playing each other across the three-day event.
Saturday's matches feature:
GB Swans v London All Stars (Women's)
Canada Midnight Suns v Irish Banshees (Women's)
Irish Banshees v GB Swans (Women's)
Canada North Stars v Wandsworth Demons (Men's)
Sunday's matches will see:
Irish Banshees v London All-Stars (Women's)
Midnight Suns v GB Swans (Women's)
Welsh Dragons v Canada North Stars (Men's)