Manchester Mozzies Cruise To Top Spot
Wednesday, May 10 2017 @ 06:27 am ACST
Contributed by: Wesley Hull
Views: 602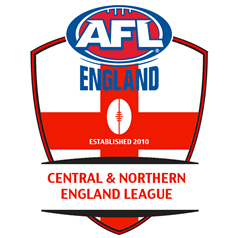 Round Two of the AFLCNE competition in England was completed last weekend. The following article from the AFLCNE website gives the rundown of the round.
With round 2 drawing to a close, there have been some shifts in the AFLCNE ladder this week. The Mozzies have taken the top spot from Wolves, who sit this week out, with a big win over the Saints, with the Scorps also seeing Wolves' bye week lifting them into 2nd. Meanwhile, at the other end of the table, Sheffield switched with Tyne Tees to go into 5th and the Saints are 7th.
The first game of the round saw the Mozzies take on Merseyside Saints, who were kicking off their second season. This produced a thumping 243-7 win for Manchester Mosquitoes, giving them an enviable percentage of 2400. However, as always, the scoreline isn't a fair reflection of the game, and with it being an improvement on the 273-7 score for the corresponding game last year, the Saints will be hoping that their development will bear fruit later in the season.
Sunday saw a double header played at Huddersfield. In the first game, Nottingham Scorpions took on a Tyne Tees Tigers team hoping to give their percentage a much needed boost, and claim a prize scalp in the process. With both sides fielding strong teams, the Tigers competed well for the first half, however the Scorp's experience saw them pull away over the past couple of quarters to record a 150-44 win.
The final game saw the Huddersfield Rams take on Sheffield Thunder, another team desperate to improve their percentage after a difficult opening game. With the Thunder having received a fresh influx of players, the competitive game saw both teams push hard until the final buzzer, with the Rams eventually recording a 134-90 win. While the Rams are delighted with their first win of the season, the Thunder can take solace in the marked improvement in form since last week.
Manchester Mosquitoes 36.27.243 d. Merseyside Saints 0.7.7
Nottingham Scorpions 22.18.150 d. Tyne Tees Tigers 6.8.44
Huddersfield Rams 19.20.134 d. Sheffield Thunder 13.12.90
Wolverhampton Wolverines - Bye