Lions' Roar Heard Across France
Saturday, May 06 2017 @ 11:10 pm ACST
Contributed by: Wesley Hull
Views: 876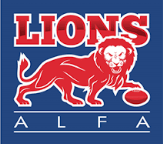 In one of the more remarkable performances in recent years the ALFA Lions from Lyon in France have taken out this season's CNFA premiership in fine style, downing last year's premiers – the Paris Cockatoos – by 62 points. The final score (Lions 103 d Cockatoos 41) was comprehensive and the ideal exclamation point on an undefeated season for a fiercely proud pride of Lions.
The result was notable for the fact that the club won all matches this season across the home and away season and the finals series. But what makes their season a truly "out of the ordinary" performance was that this premiership came after winning last season's wooden spoon.
Finishing last in both the 2013/14 and 2015/16 seasons, and a sixth place in 2014/15, there was little to indicate the season they have just had. To highlight this further – prior to this season, the Lions had won just five games across their previous three seasons.
The fact that they now sit at the top – a premiership forever in the history books – speaks volumes for the belief of those at the club as well as the work on and off the field. A combination of astute recruiting, coaching, training and performance was enhanced remarkably by an incredible belief at individual and team levels.
With the Lions and Cockatoos winning the past two flags, French football is undergoing a massive makeover. It is good news for the competition, but extra good news for the Blagnac Aviators – the leagues newest team – as they realise that success can happen quickly if all ingredients fall into place, as they have done for the ALFA Lions this season.
Congratulations to the ALFA Lions on an extraordinary season as they become the pride of Lyon and, of course, the pride of Australian Rules football across all of France.