Rio Tinto Flying Boomerangs and World Team squads announced for 2017
Saturday, April 15 2017 @ 09:05 am ACST
Contributed by: Wesley Hull
Views: 902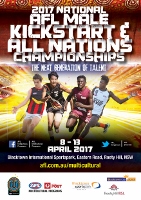 Media Release From The Australian Football League
The AFL is pleased to announce the 2017 Boomerangs and World Team squads to compete at the 2017 NAB AFL Under-16 Championships on the Gold Coast in July.
Selected by AFL Club recruiters following the 2017 AFL National Male Diversity Championships held in Blacktown, the respective squads of 25 young men has been chosen based on school attendance, leadership skills, and football ability. 
The AFL Flying Boomerangs program is a personal development and leadership program for Aboriginal and Torres Strait Islander young men aged 14-16 years old, supported by Rio Tinto. Meanwhile the World Team is made up of the best upcoming AFL multicultural players from across the nation.
 AFL General Manager Game Development, Andrew Dillon, said the Rio Tinto AFL Flying Boomerangs and World Team programs are a great opportunity for the best rising Aboriginal & Torres Strait Islander and Multicultural talent in the nation to develop on and off the field.
"The Boomerangs and World Team squads have been selected by AFL Club recruiters following their impressive performances at the 2017 AFL National Diversity Championships in Blacktown this week. 
"These are more than just programs, we are now preparing the next generation of young leaders and footballers with the skills, qualities, and experiences to become positive role models amongst their own families and within their broader communities.
"Over the past few years we have seen the Diversity Championships grow into a genuine elite talent pathway and we look forward to witnessing the next stage of development for these players, coaches, and umpires," Mr Dillon said. 
Rio Tinto Managing Director, Joanne Farrell, said: "The AFL National Diversity Championships are a brilliant showcase for the diverse culture of Indigenous and multicultural communities from across the country. We are thrilled to support this amazing program." 
"Flying Boomerangs is more than a football program, it's a chance for our future Indigenous players to embrace their heritage on Australia's biggest sporting stage." 
2017 Rio Tinto Flying Boomerangs squad:
Kevin Canendo (QLD), Kynan Kenny (SA), Aiden Holland (SA), Callum Saunders (SA), Sage Tapner (VIC), Jamarra Ugle-Hagan (VIC), Wil Dwyer (VIC), Deekyn Smith (VIC), Kobi George (VIC), Joel Jeffery (NT), Brodie Lake (NT), Tyrrell Lui (NT), Anthony Rose (NT), Clarence Baird (NT), Roy George (WA), Tyreese Bynder (WA), Jordon Kickett (WA), Zek Bolton (WA), Michael Mallard (WA), Isiah Winder (WA), Reece Gerrand (WA), Ira Jetta (WA), Tyler Brockman (WA), Wesley Clarke (NSW/ACT), David Wyman (NSW/ACT).
2017 World Team squad:
Alex Davies (QLD), Josh Blair (QLD), Marcell Hawash (QLD), Clay Daley (QLD), William Hayley (TAS), Jayden Applebee (TAS), Oliver Burrows-Cheng (TAS), Ajay Hem (SA), Diing Akur (SA), George Heintze (SA), Lam Simon (SA), Ruben Carreno (SA), Nixzon Santillo (SA), Siddarth Rajesh (VIC), Regan Uwandu (VIC), Compton Fiafua (VIC), Joey Keam (VIC), Chris Walker (WA), Brendan Walker (WA), Manfred Pati (WA), Joel Western (WA), Keanu Haddow (WA), Timothy Organ (NSW/ACT), Jamie Murphy (NSW/ACT), James Rene (NSW/ACT).
Rio Tinto is the principal partner to all of the AFL's Indigenous Programs. Rio Tinto is one of Australia's largest employers of Indigenous people, employing some 1600 Aboriginal men and women across the nation.
Australia Post is the principal partner to all of the AFL's Multicultural Programs.