Lion Champion Johnson Inspires Indigenous & Multicultural Youth
Sunday, April 09 2017 @ 10:04 pm ACST
Contributed by: Wesley Hull
Views: 1,581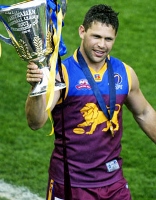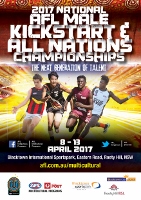 Chris Johnson certainly experienced the highs and lows of football as a player. Drafted by the Fitzroy Lions in 1993, he went on to play for the club until their demise in 1996 – experiencing some of the leanest times of any VFL/AFL club. His move to the Brisbane Bears at the end of the 1996 season coincided with the rise of a new entity – the Brisbane Lions.
He went on to become a celebrated and decorated legend of the club, playing in three premierships, being an All-Australian selection as well as a member of the Indigenous Team Of The Century. He briefly co-captained the Brisbane Lions and in 2005 was co-captain with Andrew McLeod in the Australian International Rules team.
With a resume as hard-earned and impressive as that it seems only natural that his experience and philosophies be passed on to new generations of indigenous and multicultural players. At the 2017 National AFL Male Kickstart & All Nations Championships in Blacktown, that is exactly what he is doing.
Johnson's words of wisdom resounded amongst the young warriors as they learned what is required of the modern day AFL footballer.
"For some of you this is your first, or maybe second, maybe third [tournament] but you will be identified by certain people sitting on the outskirts of this room and unfortunately they are going to put things next to your names, and this is the cutthroat [nature] of football."
"They're either going to say you're good in this area in terms of playing and they are going to come and have a chat to you. Sometimes they are going to say you are not so good in some other areas in terms of not being able to hold a conversation."
"So, what you're are going to realise is that football is not just all about your talent. It is about being able to talk to each other [and] talk to adults to and relate to them. So you are being judged by everything you do at the moment."
"You need to get these guys [the recruiters] to know your name. At the moment you are just numbers. You are number such and such from Victoria, or number such and such from WA, or number such and such from Queensland."
In a sobering reality check for these potential stars of the future, Johnson made them understand that these next few days presented an opportunity for players to make recruiters replace the numbers with a name and become noticed for what they could do, on and off the field.
Johnson illustrated the talent pathways ahead for the gathered players, with potential selection in the Flying Boomerangs or World teams after this carnival. From there he opened their eyes to the idea of their names being passed on to TAC Cup clubs for those considered good enough to trial. But he also pointed out that reaching that level was high level – where players who had been dominant at their own club level would now be on an even footing with others. No more could they believe they were the gun midfielder, but might have to come to terms with tasks as defenders, forwards or bench players.
He went further to highlight opportunities at NAB Academies with the chance to travel overseas and represent AFL football "the right way". Johnson pointed then to the national, state and colt combines across the country and then the big one – the possibility of being drafted to an AFL club.
He mentioned Individual Development Plans, psych reports and chats with people about their childhoods – all daunting prospects for the young men sharing this journey.
But Johnson's final word was the most compelling of all – especially coming from a man of great stature in the game. "Be true to yourself and get the best out of yourself that is possible."
Without doubt, Johnson captured the hearts, minds and imaginations of all young players present. True to his word, he shared a mountain of experience and information with a new generation of players – and maybe the next Chris Johnson was sitting in that audience today.