Prague Dragons Take Out Three Team/Three Nation Title
Wednesday, April 05 2017 @ 01:15 pm ACST
Contributed by: Wesley Hull
Views: 1,500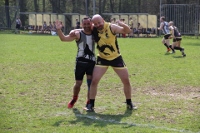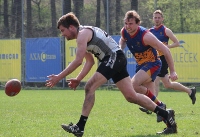 The beautiful capital city of the Czech Republic, Prague, has played host to a three team tournament featuring the city's own Prague Dragons, the Dresden Wolves from Germany and England's University of Birmingham Lions. Back in September, the city hosted the final round of the Central European Australian Football league competition, and now they have followed up with another great promotion for the game in the nation.
According to Martin Hák, PR manager for the event, "the main takeaway [from the tournament] is that it was a great day for everybody and the fans saw quite some quality football too."
"The weather was beautiful, the organisation perfect (including an outstanding barbecue), the referee was delighted by the spirit and fairness on the field and others were outraged by the extraordinary cultural program (Birmingham's Got Talent)."
The tournament saw a three way round-robin format of games. The results saw:
Birmingham Lions 5 6 36 vs. Prague Dragons 7 9 51
Birmingham Lions 9 9 63 vs. Dresden Wolves 6 2 38
Prague Dragons 7 8 50 vs. Dresden Wolves 4 2 26
It was a significant result for the Prague Dragons, building both belief and interest. Martin Hák stated that "what we know from experience is that events such as this are the only effective way to get people interested in the game."
"I mean, we can do many things to bring people to the training [sessions]or increase their awareness about the sport but they all cost energy [which is valuable] but miss that feeling that only real game can provide."
"On the other hand, with tournaments like this, we enhance both: the interest of the public and the motivation of the players. We can see it in the numbers too. Usually some 10-20% more people come to training sessions before and after the matches including a few newcomers."
"Plus the real games are crucial for transforming newbies or those interested into core players. That might not seem much but for us these numbers are vital. Moreover, we enjoy it and thus it comes "for free". I expect the very same effects in Dresden. We can say that our encounters are traditional and they are always the 'something' both teams are looking for in the season."
The past eight months has seen the Prague Dragons performing well on and off the field and firmly placing the city and the nation back on the European footy map. The Dresden Wolves, whilst a little undermanned, would have taken great strides from the tournament, as would the Birmingham crew – not just the Lions' university based squad, but also the momentum to possibly resurrect the Birmingham Bears in the AFLCNE.
It is hoped that this tournament can continue and grow into the future and become a bigger and more prominent part of the Australian Rules football landscape – and Prague becoming a showpiece of the game in Eastern Europe with their well performed Dragons.