Manchester Mozzies Almost Ready For Champion's League
Wednesday, March 22 2017 @ 01:14 pm ACDT
Contributed by: Wesley Hull
Views: 689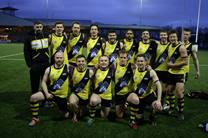 With the 2017 AFL Europe Champion's League tournament looming in Amsterdam, the Manchester Mozzies have shared their views about the event and their preparations. Pool teams will be announced soon, but this article from the Mozzies' website gives an insight into what happens in the lead-up to one of AFL Europe's showpieces. 
After nearly three months of training, the Mozzies are just two training sessions away from AFL Europe's Champions League 2017. Though the groups for the initial stages of the tournament are yet to be announced the Mozzies are looking forward to the challenges that lay ahead in Amsterdam on April 1st.
Coach Chris Sproule has been including plenty of match simulation drills in training getting the squad ready for the intensity the AFL Champions League brings. "The boys are looking good, they've had plenty of running in their legs and their commitment to the contest is really impressive," Coach Sproule said last week.
 The Mozzies came away from the 2016 Champions League with the runners-up status. Though the squad who travelled to the 'Dam last year were proud of their improvement on the year before, you could tell there was an air of disappointment in the locker room after the final.
"This year, more than ever, we are psyched about the competition." Key midfielder Chris Britton said, "To be able to test ourselves against Europe's best, and represent our league will never get old. We have a strong squad going, so definitely looking to ruffle some feathers." 
With every member of the squad working hard for the tournament the selection headache for Coach Sproule is the worst it's been for any Mozzies coach. "The four Aussies on the field rule is no longer a problem for us, the British and Irish boys are just as good, in some cases better!" Sproule said, "Picking the 16-man squad is hard enough, never mind the starting nine." Six members of the squad travelling to the 'Dam have represented either the GB Bulldogs or Irish Warriors, a feat the club are immensely proud of (we will be publishing an article around Mozzies at the IC later this year). 
With two more sessions to go before AFL Europe's Champions League 2017, the Mozzies are excited but focussed on the tournament, and their aims going into the day of footy. 
As a club, we are still looking for new players from any background. So, if you want to give Aussie Rules a go or just want to meet some new people and have some fun, get in touch with us on Facebook or Twitter. 
The original article can be found at: http://www.manchesteraussierules.com/press-release/two-to-go-before-the-big-one/