Iceland To Host Arctic Cup this weekend
Friday, March 24 2017 @ 08:44 am ACDT
Contributed by: Wesley Hull
Views: 1,788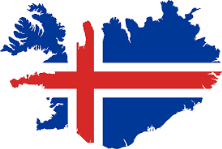 The Icelandic capital city of Reykjavic will host the fledgling Arctic Cup later this weekend in a huge boost for footy in Iceland and a great opportunity for teams headed to the nation for the event. An Iceland team will compete against the visiting Baltimore-Washington Eagles from the USA, the Halifax Dockers from Nova Scotia in Canada, Port Malmo Maulers from Sweden and the South East London Giants from England.
Featuring men's and women's matches, the tournament will take place at the suburb of Fossvogur on Saturday 24th March. Competing teams will arrive in Reykjavic Friday and Sunday will be spent sightseeing and taking in as many charms as possible from around nearby sights. The carnival is a pre-season match for visiting teams, but also a kick-start for interest in the game in Iceland.
The South East London Facebook page details the event:
We are pleased to confirm Iceland as the country for our 2017 Pre-Season trip.
We will be playing in a massive 9-a-side international tournament against Iceland as well as clubs from the USA (Baltimore Eagles) and Canada (Halifax Aussie Rules FC). The tournament will be for men's and women's teams.
Everyone from our club is invited to this trip, along with your partners who may want to play or just come along for the parties.
Also, new players who plan to join the Giants in 2017 are also strongly encouraged to attend.
The Baltimore-Washington Eagles see the tournament as a great experience for their club on many levels. According to board member and organiser, Ryan Cartwright, "the Arctic Cup is slated for the weekend of March 25th. Ten men and ten women from the USA will embark to Iceland to take on some their local clubs from Canada, Iceland, London, and Malmo Sweden. The women's will be a combined Baltimore-Washington, NY, and Boston team vs Southeast London.
The idea started with a friendly international match between the Baltimore Washington Eagles and Iceland which soon snowballed into a mini nine v nine tournament with five men's teams and two women's teams.
We expect cold and wind, but a fast tempo since the games will be much quicker with nine a side and a smaller field. We also expect to create some lifelong memories and friendships. Everyone is looking forward to experiencing the beautiful island of Iceland with a chance to see the northern lights and experience the blue lagoon.
The international exposure will be huge for our club as well as set a precedent for a USAFL club to venture outside of North America. Hopefully this is the start of an annual tournament and might open up ideas for future international tournaments between local club."
It is sure to be a wonderful event, both from a football promotion and team building point of view. It is also a great chance for Icelandic footy to be promoted locally and hope that the game can build bigger again, especially if this event becomes a regular occurrence as is hoped.
2017 AFL Iceland Arctic Cup Schedule
Bústaðavegur Fields, Reykjavik, Iceland
All times local
10:00am: Baltimore-Washington Eagles v Iceland Ravens
10:40am: Halifax Dockers v SE London Giants
11:20am: Baltimore-Wahsington Eagles v Port Malmö Maulers
12:00pm: Iceland Ravens v SE London Giants
12:40pm: Port Malmö Maulers v Halifax Dockers
1:30pm: WOMEN'S MATCH: SE London Giants v East Coast Allies (Baltimore-Washington, New York, Boston, Montreal)
2:10pm: SE London Giants v Baltimore-Washington Eagles
2:50pm: Iceland Ravens v Port Malmö Maulers
3:30pm Halifax Dockers v Baltimore-Washington Eagles
4:10pm: SE London Giants v Port Malmö Maulers
4:50pm: Halifax Dockers v Iceland Ravens
Picture of Iceland flag: Pinterest