"Masters" Of Their Domains
Saturday, March 04 2017 @ 10:04 pm ACDT
Contributed by: Wesley Hull
Views: 977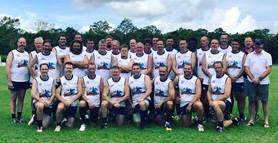 Despite the dubious reference to a Seinfeld episode, the Cairns Stingers AFL Masters team certainly were masters of Watson's Oval in Cairns today. Hosting a North Queensland carnival today, attended by players from the Cairns based team as well as players from arch-rivals Townsville, Whitsundays, Charters Towers, Port Douglas and even from Mt Isa, the Stingers held aloft the trophy at the end of a fun day for the more "elderly" or maybe "slightly age challenged" members of the playing fraternity across North Queensland.
Frankly, these guys put others to shame. With the threat of tropical downpours, and humidity you could probably swim in, the Masters players defied conditions and played some good, hard footy.
The opening game was played for the trophy, and was won by the Cairns Stingers over the Townsville Sharks. After an even first quarter, the home team began to play more accountable footy and ground their opponents down throughout the rest of the match to record a comfortable five goal win.
The win for Cairns augments their win over Townsville back in November in the Cardwell Cup, causing the Cairns trophy cupboard to be a little more crowded (something Townsville will be very happy to assist with when they next meet later in the year).
The second match was purely for fun. Players from all teams were mixed to even up the game and the result was an even better game. Without the burden of playing for higher stakes, both teams played a much more open style of game that entertained local crowds that had come to watch.
The AFL Masters competitions, Australia wide, are a tremendous addition to football in general. The players are still passionate about the game, and for the most part still have the skills they possessed back in their prime. If only they had retained their speed as well. But for any players who believe they cannot make the grade at senior or reserve level, Masters provides as opportunity to keep playing – albeit at a more social level.
But the hits are just as hard, the goals are just as exciting and the team bonding is a tremendous way to make new friends – often for life. In coming months some of these North Queensland players will look to be a part of the Queensland state team to play at the national titles later this year in Geelong, continuing their footy journey which probably started in childhood and now extends into their thirties, forties and in my case fifties – sometimes older still as players in their 60's with still capable bodies and mind relive glory days again and again.
They are still, quite definitely, masters of their respective domains. Footy domains, of course!