Heritage of the Game: an American perspective
Wednesday, March 01 2017 @ 02:45 pm ACDT
Contributed by: Joe Woodyard
Views: 1,131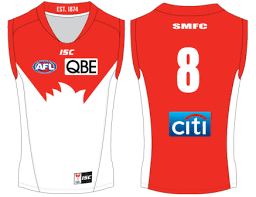 We welcome our newest writer Joe Woodyard to the site. Joe is based in the United States in the state of Georgia. We hope he will become a long term correspondent for us. His footy interests lie with the history of the AFL, it's stories, and the on-field play during the regular season.
I like that AFL clubs do a good job of remembering their roots and telling their entire story, even if the memories aren't as pleasant.
St. Kilda matches don't make it to the US, at least not through my cable TV package, so I've been watching a season 2016 tilt with Melbourne. On the back of the Saints uniforms is an "EST. 1873," or established in 1873, which alludes to the first year of their existence.
They've never relocated and granted, the majority of their footy hasn't been of the winning type, but remembering your history and knowing where you've come from are both good things.
The Sydney Swans do this on their guernseys by stitching in "SMFC" at the base of the neck. This of course stands for South Melbourne Football Club, which was this team's identity from 1874 until 1982 when financial woes led to relocation that sent the team northeast. The initials were an addition in 2004.
Moving a team like that is painful for supporters—it feels like something is being taken away, that their loyalty, their going to games and cheering with their families, ultimately meant nothing. So adding the old SMFC to the home and away kits is a very nice touch.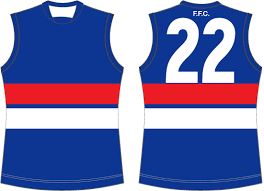 Same thing in Footscray. The Footscray Football Club also had its share of financial troubles and saw a path out by becoming the Western Bulldogs and potentially connecting with a larger fan base. You can see the "FFC" above the number on the back of the guernsey.

I see teams here in the United States move around and I don't see the same thing. Can you imagine the Oklahoma City Thunder ever wearing anything that referred to the time the franchise spent as the Seattle SuperSonics?
We don't see the Baltimore Ravens talk about being the Cleveland Browns in a previous existence, nor do the Washington Nationals refer to ever being the Montreal Expos.
But in Seattle, Cleveland, and Montreal, fans felt like they got stabbed in the back by owners who were seeking more money. Loyalty, history, and tradition meant nothing next to the almighty dollar.
It is nice that I don't perceive these AFL sides disrespecting their fans like that. I get that a goal is to make money and not lose it, but it is very cool that a nod is given to a team's heritage.
You can read more of Joe's work at Play On! An Australian Rules Football site