Hawks Of Old Dent Cockerels Finals Hopes
Sunday, February 19 2017 @ 10:24 pm ACDT
Contributed by: Wesley Hull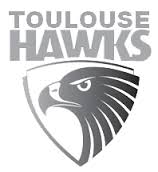 The good, old-fashioned local derby appeared in Toulouse on the weekend with a double-header featuring both Toulouse teams facing both Paris teams. In a sense it was a battle of the split teams with the Blagnac Aviators growing from the depth of the Toulouse Hawks and the Paris Cockatoos being brought to life in a similar way from the depth of the Paris Cockerels.

The match of the day finished up with a thriller as the Toulouse Hawks brought back happy memories from not too long ago when they downed the Paris Cockerels. Toulouse had no finals to play for, having long falling out of that race. But they can still have a say in which teams do play finals – and the Cockerels found that out the hard way.

The Cockerels led by just a point at the first break and by half time the Hawks had their beaks in front by just three points. By three-quarter time the Hawks had galloped away to a 23 point lead, but the gallant Cockerels, with only nine players, narrowed that to just 8 points by the final siren – final scores seeing the Toulouse Hawks 91 downing the Paris Cockerels 83.

The Cockerels are still in the finals mix, but back to back losses make them vulnerable. They must win both remaining games against both the Aviators and the Cockatoos to ensure finals. The Hawks have climbed off the bottom of the ladder and, remarkably, could still finish just outside the finals if they can defeat the Cockatoos in their remaining game.

The Cockatoos themselves have strengthened their chances of finals footy with a comprehensive thrashing of the Blagnac Aviators in the other match. The Cockatoos ran riot en route to a 106 point win over Blagnac – final scores 131 to 25.

Whilst the Cergy-Pontoise Coyotes and ALFA Lions are virtually assured of finals footy, a fascinating battle now looms for the Cockerels, Cockatoos, Bordeaux Bombers and Perpignan Tigers, all of which are well and truly in the finals race for the last two spots.

It makes for some great footy in coming weeks, starting with the huge clash between the Tigers and the Lions in Perpignan and the Bombers hosting the Coyotes in Bordeaux next weekend. These results will have a huge say in shaping the finals.

Comments (0)
---
World Footy News
http://www.worldfootynews.com/article.php/20170219222437808