Tigers Fine Tuning New Season
Friday, February 17 2017 @ 07:12 pm ACDT
Contributed by: Wesley Hull
Views: 1,387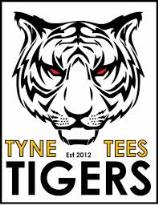 Like all teams that mean to make a statement, the Tyne Tees Tigers in the AFLCNE (Australian Football League Central & Northern England) competition are about to embark on a rigorous pre-season campaign. Undeterred by their placings in their initial seasons, the Tigers have used everything to date as a learning experience and will fine tune in coming weeks as they travel backwards and forwards between Newcastle and Scotland.
After a promising end to the 2015 season, winning four of their last five games, the Tigers stalled a little in 2016, finishing in sixth place with just two wins. The season would have exposed a range of areas for improvement, and that is just about to happen.
The Tiger's start with a road trip to Scotland, taking on the Kingdom Kangaroos and the West Lothian Eagles in the Bawbag Cup. The event will be played at the Queensferry Sports & Community Hub near Edinburgh on March 11th. The following week they will host the Edinburgh Bloods at their Gosforth base. Next is the annual Tigerpig Trophy clash against the Putney Magpies from London, also at Gosforth. The intense pre-season then finishes with the 2017 instalment of the Haggis Cup to be played West Of Scotland Rugby Club near Glasgow on April 8th.
It is a huge program, but the Tigers will need a good lead up as they then meet the reigning champions and league leviathan, the Manchester Mozzies, in their Round One AFLCNE match.
Tigers president, Phil Martin, explained that "the extended preseason program we have put in place is designed to ensure the Tigers hit the ground running. We are thrilled to be extending our relationships with Putney Magpies and the Kingdom Kangaroos via the Tigerpig trophy (versus Putney) and Bawbag Cup (versus the Roos) which have both become annual events. We are particularly excited by the prospect of the new West Lothian Eagles joining the Bawbag Cup in a triangular format and are encouraged by the growth of the game in the UK."
It will be a busy period for all concerned, but the Tigers are certainly doing everything they can to continue their climb up the footy ladder.
The club also has an excellent website page which gives details about all of the teams they are drawn to play in 2017 – their Scottish opposition as well as all of the AFLCNE teams. To read about the clubs, visit the Tyne Tees Tigers website at:
https://www.tyneteestigers.co.uk/2017opponents