Kangaroos Leap Away From Wooden Spoon – For Now
Tuesday, February 14 2017 @ 11:07 am ACDT
Contributed by: Wesley Hull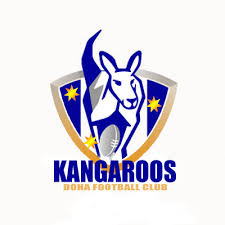 It has been a tough couple of seasons for the Doha Kangaroos, inhabiting the lower rungs of the AFL Middle East ladder and finding wins difficult to find, despite some closely fought battles. So their last start win over the visiting Abu Dhabi Falcons would have brought huge smiles to the Qatar-based crew and warmed their hearts as well.

In a hard fought and tight clash, the Kangaroos held on by two even goals, taking the match 13 8 86 to the Falcons 11 8 74. In a significant by-product of the win, the Kangaroos have jumped over the Falcons on the ladder – temporarily getting away from the wooden spoon position and handing that dubious honour to the Falcons. A small percentage differential exists, favouring the Kangaroos. Whilst the Falcons have now finished their season and cannot change their percentage, the Kangaroos will be hoping for a win, or at least a very tight result in their next clash to stay off the bottom.

The last two matches will both pack interest. The Kangaroos will again play at home in Qatar, hosting the top of the table Bulls. The Bulls are safely in the grand final regardless of the result, but would like to keep their undefeated run going. The Kangaroos would dearly love another victory to finish their season, and at home it cannot be ruled out, but if they lose it has to be by a margin of less than two goals to avoid the wooden spoon.

In the other clash, the Dubai Dragons meet the Entertainer Dubai Dingoes. The Dragons simply want a win. With a superior percentage to the Bulls already, they could finish on top if the Bulls lose in Qatar. But the Dingoes are seeking a remarkable ten goal or better win – enough for them to displace the Dragons and reach the grand final. It is a tall order, but desperate times often bring desperate responses and the Dingoes know that everything is firmly in their hands.

It makes for an exciting finish to the AFL Middle East season with all four teams involved having plenty to play for and teams goals to achieve.



Comments (0)
---
World Footy News
http://www.worldfootynews.com/article.php/2017021411071114