Londoners Barging Their Way Into Women's Aussie Rules Football
Friday, January 13 2017 @ 07:20 am ACDT
Contributed by: Wesley Hull
Views: 1,296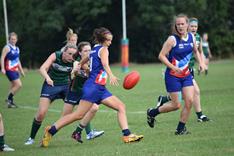 Naomi Ackerman has reported on the Evening Standard website the "clamour to join London teams as hard-hitting game soars in popularity". With the inaugural AFL Women's league competition about to kick off in Australia on February 3rd when Carlton and Collingwood play the historic opening match, women's footy is set to explode further across Australia and the world, and this article reflects that growth with a look at the growth in the game being experienced across London.
It is not a sport for the faint-hearted — but that appears to be the attraction as London women sign up in their droves to play Aussie rules football.
The game, which involves full-body tackles and running for about nine miles in a match, has been played by men in Regent's Park for more than 25 years but now it has soared in popularity among women who "enjoy a bit of rough and tumble".
 Aussie Rules features 18 players a side, is played on an oval field and bears similarities to rugby and Gaelic football. Dangerous physical contact is banned but it is known for its crunching impacts and fierce battles to control the ball.
The first women's "footy" teams, set up two years ago by Cancer Research manager Lisa Wilson and Australian accountant Marianna Graham, were so popular that more squads were created and  London now has the sport's largest women's league in Europe. A free taster day for the sport will be held on February 11 in Victoria Park.
This year a "London All-Stars" team will play its first international games, against Canadian and Irish national sides. A British national squad, GB Swans, will visit Melbourne this summer for an international competition.
 Ms Wilson, 25, who plays for Wimbledon Hawks, said: "We organised every- thing ourselves. I'm from Manchester and found out about the sport while studying in Melbourne. It's not just expat Aussies. Hundreds of women play in our AFL London Women's league and many are British. I've tried netball, hockey and football — and this has the best team spirit."
Ms Graham, 35, who manages South East London Giants, said: "It's not like rugby where you get tackled for no reason, though tackles can be hard and in the air. Aussie rules involves as much as 15k running so it's great for fitness. British girls have loved it — they enjoy a bit of rough and tumble I guess."
She added: "It's such an achievement to have got this far. The history of footy in Australia is as a boys' club — boys played footy, girls netball, so it has taken a while to break down barriers."
Teams include the Giants, Hawks, Wandsworth Demons and North London Lions, plus clubs in Shoreditch, Chiswick and Putney.
For details about the taster day visit: www.afllondon.com/womensfooty  
Original article can be found at: http://www.standard.co.uk/sport/londoners-are-barging-their-way-into-women-s-aussie-rules-football-a3438661.html
Picture: The Evening Standard