International footy teams to play School Round
Thursday, January 05 2017 @ 09:15 pm ACDT
Contributed by: Troy Thompson
Views: 2,924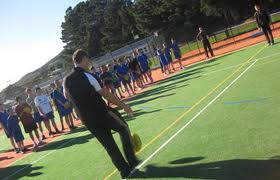 International cup teams could be heading back to school. World Footy News has received information that Melbourne schools have been in talks to host an International Cup match in August.
Depending on the final numbers of teams that can make the trip to Melbourne there could be up to 17 games in total, to be played across a number of schools.
International Cup teams in the past have visited local schools between match days with great positive feedback from the teams as well as the schools on the visits.
IC17 looks to take this further with the students not only interacting with the teams but also hosting an International Cup round match. Some schools are hoping to host select countries that fit for example with their language programs.
It looks likely that this will be the second round of the tournament which it tentatively scheduled for August the 9th and will be known as the "School Round".
Also set to continue after the success in 2014 is the "Community Round" where clubs across Melbourne and rural Victoria host matches. These matches were a highlight for most of the international teams and the host clubs were hugely positive. Most clubs immediately requested to host matches again following the 2014 matches.
We also are aware many clubs were very disappointed at missing the opportunity last time around. This will again likely be the middle Saturday of the tournament (Round 3) with matches played as curtain raisers or after the main local match as was the case in Bendigo in 2014.
We hope to have more information on the confirmed teams, schedules and formats in the coming weeks.