Blagnac Aviators' Maiden Victory
Sunday, December 18 2016 @ 08:48 am ACDT
Contributed by: Wesley Hull
Views: 1,496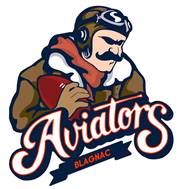 It took until their second match in the CNFA competition, but the league's newest team, the Blagnac Aviators have tasted their first victory in the national league downing their Toulouse neighbours, the Toulouse Hawks, in the inaugural Toulouse Derby.
Whilst it is fair to say that the former CNFA powerhouse, Toulouse, have done much to ensure that their fellow city team succeeded quickly, nothing can take away the fact that Blagnac have already proved themselves capable of big things quickly in their own right. In their first game this season against the improved Bordeaux Bombers, the Aviators were competitive going down by 40 points.
With this victory, the Aviators now know that they belong at this level of competition and can build for this season and into the future with confidence. Their victory was also brave given a high injury toll, suggesting depth on their playing list.
Final Score: Blagnac Aviators 93 d Toulouse Hawks 68 The victory sees the Aviators arrive at the winter break safely off the bottom of the ladder, which might be a surprise to some. But to those on the inside, at both the Aviators and the Hawks, thee victory vindicates the decision to split resources to achieve quick success, in the same mould as the Paris Cocks' decision to develop the two successful entities, the Cockerels and Cockatoos, from the first year – the Cockatoos winning the flag in their first season.
The defeat for the Hawks, whilst not shattering for a club in transition, places them in the unenviable position of the bottom rung on the ladder. Their run after the break sees tough clashes against both Paris teams.
Statistics mean little, but the win for the Aviators sees them "statistically" in the race for fourth place come finals time – though their run after the break also includes the powerhouse Cergy-Pontoise Coyotes, both Paris teams as well as the Perpignan Tigers.
Realistically, we are unlikely to see a Toulouse team in this season's finals series, but the signs are there that the city might soon provide two strong teams for the competition to negotiate: like in the game of Monopoly, the first property on the board, Old Kent Road, is a much scarier place to land when it has two houses on it.