St. Petersburg Cats Claim Unity Day Cup
Monday, November 21 2016 @ 11:44 am ACDT
Contributed by: Wesley Hull
Views: 1,122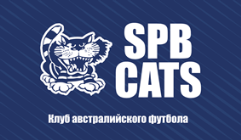 The following article comes from Alex Andryushin as he reports on the final leg of the AFL Russia Unity Day Cup, taken out this year by the St Petersburg Cats. Such has been the growth of the game in Russia that St Petersburg can now truly mount a case for a long term rivalry. Also, having two teams again in Moscow sees the game developing further in the national capital.
On a freezing day of November 4th, three Russian teams played the final tournament of 2016 – Unity Day Cup – on the Moscow State University pitch. It was a home ground for two capital city teams – "Slavyane" & "Lazy Koalas" - and the third one came from Saint-Petersburg – "St.Petersburg Cats". It was a snowy day with -2°C on the thermometer, but the competitors were ready for such unpleasant weather.
In the opening minutes of the first game (Slavyane vs Cats) the home team got a quick 7 points, scoring a goal and a behind. The Cats, however, found strength to fight back and dominated the rest of the match, scoring a goal every 3-4 minutes and playing a decent defensive game. After two periods of 15 minutes the final score was 66 to 9 in favour of St. Petersburg squad.

The second game of the tournament was played between Koalas and Slavyane. Both teams were playing hard, but luck was against Slavyane this day, they conceded several goals, and Koalas calmly finished the match with the score of 72 to 13. The last game was a part of long-lasting rivalry between two cities; Moscow and St. Petersburg.
There were three cups previously in 2016: Koalas celebrated the victory in April, Cats got their revenge in May, and Koalas were stronger in September tournament. But during this cold day the luck was on the side of guest team. The Cats started the game with four goals and a couple of behinds, then Koalas narrowed the gap to 10 points. But shortly after the team from St. Petersburg maintained the control on each part of the pitch, locking up everything in defence, dominating in the middle, delivering quick passes and converting them into points.
The final score was 54 to 26 in favour of the Cats, and they were declared the winners of Unity Day Cup. The 2016 season of Australian football in Russia is over, but teams continue to conduct training's on a regular basis, constantly improving their skills and preparing for a next season.