Tigers Chasing Coyotes In France
Monday, November 21 2016 @ 09:54 am ACDT
Contributed by: Wesley Hull
Views: 1,241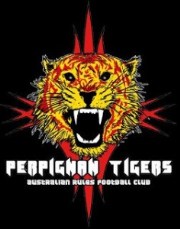 The Perpignan Tigers leapt into second place on the CNFA ladder in France after a solid win against the Bordeaux Bombers on the weekend. The Bombers got away to a good start before being worn down by the Tigers. They held a 14 point lead at the first break before the Tigers came back and took a four point lead to the break. The game was up for grabs by three-quarter time with the Tigers up by 10 points, but they held firm in the final quarter to win by 34 points.
Final Score: Perpignan Tigers 112 d Bordeaux Bombers 78
In the other game over the weekend, the Cergy-Pontoise Coyotes leaped back to the top of the table with their third win of the season. This time they remained undefeated with a big win over the Toulouse Hawks. The Coyotes dominated early and continued to pull away, recording a 99 point win over the still winless Hawks.
Final Score: Cergy-Pontoise Coyotes 132 d Toulouse Hawks 33
The weekend results see the Coyotes and Tigers holding first and second place. The remaining Round Four match will see the Paris Cockatoos host the undefeated ALFA Lions. The result will have an impact on the top four after the first four rounds with just a round to go before the winter break. A win for the Cockatoos will see them displace the Tigers in second place. A win for the Lions will see them hold top spot on percentage from the Coyotes.
The unplayed Round Three match between the Toulouse Hawks and the Blagnac Aviators has been postponed until the 17th December. With the defeat to the Coyotes on the weekend, the match against the Aviators becomes vital for the Hawks if they have any thoughts of finals this season.