AFL Middle East Season Set To Start
Tuesday, October 18 2016 @ 02:04 pm ACDT
Contributed by: Wesley Hull
Views: 1,158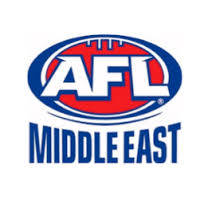 The new 2016/17 AFL Middle East season gets under way at the Sevens Stadium in Dubai with a double-header on Friday, 21st October. In the opening match of the fixture the Entertainer (Dubai) Dingoes will take on the Abu Dhabi Falcons. This will be followed by the grand final rematch between the Multiplex Bulls and title holders the Dubai Dragons.
The Doha Kangaroos will start their season in coming weeks once all future fixtures are finalised.
The new season brings all sorts of possibilities, and each team playing on Friday will have the belief that a new season brings.
The Entertainer Dingoes won their first trophy two weeks ago when they claimed the pre-season cup. It heralds a new era for the Dingoes and they go into Friday night's match against the Falcons with their own bar raised and a second cup on the horizon for this season.
The Dubai Dragons are current title holders and have won four of the last five premierships. They go into the new season as warm favourites to keep the dynasty going, but it won't be a given – the other teams will ensure that. A win on Friday will send a chilling note to other teams. A loss will be blood in the water and the other teams will taste it.
Bridesmaids in their opening two seasons, the Multiplex Bulls will be absolutely ravenous for a "third time lucky" premiership. They have the talent and the hunger, now they just need the extra ounce of luck. Friday's result will go a long way to setting up the season.
The Abu Dhabi Falcons have not tasted success for a while now – their last success was prior to the Dragon's era of dominance. But they have been training well by all accounts and would love to stroll into Dubai and throw some cats amongst the local pigeons.
Whilst the Doha Kangaroos don't play on Friday, you can bet they will be watching with great interest. They have a great chance to assess the relative strengths and weaknesses of all other sides.
A fascinating Round One awaits.