Revolution narrow IC17 squad and look to Europe
Tuesday, October 18 2016 @ 09:11 am ACDT
Contributed by: Troy Thompson
Views: 1,662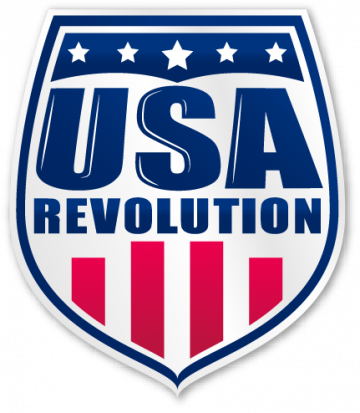 The USA national side the Revolution have one of the most thorough selection processes of any nation ahead of the International cup. Over the past two years they have been assessing and trialling players from all over the USA. On Sunday the USAFL announced a narrowed squad of 66 players that will represent the USA.
This time around they have announced they will select 30 players from this squad in April next year to bring to the 2017 AFL International Cup in Melbourne. Those named on Sunday that do not make the trip to Melbourne, will be then representing the USA in 2018 on a playing trip to Europe (details yet to be announced). It has been a very long time since the US national team has travelled to Europe (2001) after years of talk about it happening again it looks like it will get off the ground.
The Revolution team will also take a team to Canada again in 2018.
Among a number of players that represented the USA in Melbourne is 2014 are some notable inclusions.
Alex Aurrichio who has spent the past two years as a ruckman with the Northern Blues in the VFL has been named in the squad and was back playing with the New York Magpies on the weekend. Another big man in the squad for the first time is Nolan Cox. Nolan is a key forward and a key member of the Austin Crows team that have just gone back to back USAFL National Championships. He also happens to be the brother of Collingwood's Mason Cox.
Also named in the US squad for the first time is Michael 'Buddy' Spohn who is a multi-season senior ruckman with the Black Rock Football Club that play in the Southern Football League in Melbourne. Spohn is originally from San Clemente, California.
The full squad named on the weekend below.
| | | |
| --- | --- | --- |
| Player | | Club |
| Ben | Carpenter | Austin Crows |
| Nolan | Cox | Austin Crows |
| Joe | Lopez | Austin Crows |
| Mike | Lienhan | Austin Crows |
| Daniel | Brown | Austin Crows |
| Jay | Levesque | Baltimore Washington Eagles |
| Keith | Thornburg | Baltimore Washington Eagles |
| Ryan | Cartwright | Baltimore Washington Eagles |
| Jeff | Kramer | Chicago Swans |
| Dan | Hamilton | Columbus Jackaroos |
| Mark | McClure | Columbus Jackaroos |
| Rob | Adams | Columbus Jackaroos |
| Clyde | Simpson | Columbus Jackaroos |
| Chet | Reidnour | Columbus Jackaroos |
| Jason | Wilhelm | Dallas Magpies |
| David | Grzesiak | Dallas Magpies |
| Mike | Mayne | Dallas Magpies |
| Jack | O Dell | Dallas Magpies |
| Patrick | Pryor | Dallas Magpies |
| Brian | Rippeto | Denver Bulldogs |
| Ryan | Garthright | Denver Bulldogs |
| Pete | Taylor | Denver Bulldogs |
| Adams | Wufsus | Denver Bulldogs |
| Ben | Judge | Des Moines Roosters |
| Hamilton | May | Des Moines Roosters |
| Thomas | Hecker | Fort Lauderdale Squids |
| Mike | LeValley | Fort Lauderdale Squids |
| Brian | Dragus | Golden Gate Roos |
| Kyle | Johnson | Golden Gate Roos |
| Tim | Lindfelt | Golden Gate Roos |
| Dan | Livy | Golden Gate Roos |
| Zac | Taylor | Golden Gate Roos |
| Jake | Aulner | Golden Gate Roos |
| David | Franco | Golden Gate Roos |
| Jim | Blocho | Golden Gate Roos |
| Dave | Restrepo | Houston Lonestars |
| Bobby | Sears | Houston Lonestars |
| Jessie | Carcamo | Houston Lonestars |
| Chris | Fielder | Houston Lonestars |
| Matt | Stevens | Houston Lonestars |
| Shane | Branscom | Indianapolis Giants |
| Caleb | Daughtery | KC Power |
| Donald | Lee | LA Dragons |
| Gabriel | Del Campo | LA Dragons |
| Bill | McGovern | LA Dragons |
| Buddy | Spohn | Black Rock Football Club (SFL) |
| Brent | Fisher | Minnesota Freeze |
| Andrew | Werner | Minnesota Freeze |
| Stephen | Fashant | Minnesota Freeze |
| John | Freeman | Nashville Kangaroos |
| Tim | Fulwider | Nashville Kangaroos |
| Dan | Lehane | New York Magpies |
| Michael | Murphy | New York Magpies |
| Alex | Aurrichio | New York Magpies |
| Eric | Hanson | Nlorth Carolina |
| Nick | Bowman | Ohio Valley |
| Eric | Floyd | Ohio Valley |
| Tyler | Mounce | Orange County Bombers |
| Ryan | McGettigan | Philly Hawks |
| Jonathan | Ginsberg | Philly Hawks |
| Saleh | Tybejee | Sacramento Suns |
| Max | Depina | Seattle Grizzlies |
| Kyle | Rasp | Seattle Grizzlies |
| Dustin | Jones | Tampa Bay |
| Andrew | Rose | Tulsa Buffaloes |
| Andrew | Sneed | Tulsa Buffaloes |