Prime Minister singles out Sudanese Swan Aliir Aliir
Thursday, September 22 2016 @ 12:53 pm ACST
Contributed by: Wesley Hull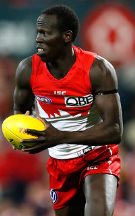 The following story by Ben Guthrie at the www.afl.com.au website looks at the recognition paid by Australian Prime Minister Malcolm Turnbull towards Sydney Swans defender, and Sudanese talent, Aliir Aliir. The article highlights Aliir's almost automatic multicultural value as a community leader, made even more wide ranging given his example being used at a UN General Assembly leader's summit on refugees. It is an inspirational story. 
PRIME Minister Malcolm Turnbull has spoken of the remarkable story of Sydney Swans defender Aliir Aliir at a United Nations conference in New York. 
Addressing the Leaders Summit on Refugees at a UN General Assembly meeting convened by US president Barack Obama on Thursday, Turnbull pointed to Aliir as a shining example of the success of the Australia's migrant policy.
Aliir, 22, who will front up against Geelong in Friday night's preliminary final at the MCG, grew up in a refugee camp in Kenya from the age of three after his family fled the bloody civil war in Sudan.
Aliir was born to Sudanese parents and spent the early years of his life in Kakuma refugee camp before his family moved to Australia when he was seven years old.
"For Aliir, his family and 150,000 other men, women and children, Kakuma refugee camp was their home," Turnbull said in his address.
"The camp provided the bare necessities of food and shelter, but sports equipment was unimaginable. Aliir and his friends would use strips of old clothing as a football.
"He was seven when his family came to Australia. Tall, fast and agile, Aliir was a natural for Australian Rules football and once he took up the game hasn't looked back."
Aliir became the first player of Sudanese heritage taken in the national draft, when he was selected by the Swans with pick No.44 in 2013.
"Earlier this year I was delighted when Aliir debuted for the AFL team I support, the Sydney Swans," Turnbull said.
"Now 22, Aliir is one of the first Sudanese immigrants to play AFL and has become a role model in our multicultural nation, especially for young people in Sydney."
It is understood the Prime Minister called the Swans defender earlier in the week to learn more about his story.
Aliir made his debut against the Brisbane Lions in round six and has played 12 games this season.
He collected a career-high 21 disposals in the Swans' 36-point semi-final win over Adelaide last Saturday.
The original story can be found at: http://www.afl.com.au/news/2016-09-22/prime-minister-singles-out-sudanese-swan-aliir-aliir
Comments (0)
---
World Footy News
http://www.worldfootynews.com/article.php/20160922125349547