Leeside Lions Prowling For Premiership
Thursday, July 28 2016 @ 12:51 pm ACST
Contributed by: Wesley Hull
Views: 1,628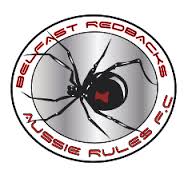 The Leeside Lions completed an impressive home and away season, remaining undefeated and being the first team into the 2016 ARFLI Grand Final. It is tremendous reward for effort for the Cork based club and they certainly deserve favouritism for the flag.
But the Belfast Redbacks have reached their fifth consecutive Grand Final after winning both of their Semi-Final matches at Islandbridge, Dublin, last weekend. By downing both the Galway Magpies and the South Dublin Swans, the Redbacks have set up a fascinating Grand Final. The Leeside Lions have the 2016 form, but the Redbacks have the Grand Final experience over recent years.
The Lions will host the Grand Final at their home ground in Cork, further strengthening their position as favourites.
For the Magpies and the Swans, a pre-season awaits where they can build on their successes from this season and address weaknesses exposed across the season's journey. The Magpies had been heavily in the Grand Final mix, going into the Semi-Finals in second place. But their loss to the Redbacks consigned them to a third place finish, but they would have gained a great deal of confidence and belief from a solid season.
The Swans, premiers in 2015, have had a season they would prefer to exchange for another go, but they will also take the positives and rebuild again towards success in 2017.
But the 2016 Grand Final is set to be an exciting and hard fought affair. The Lions are chasing their fifth flag, the Redbacks their third. The Redbacks have been runners-up three times since 2010 and are determined not to add to that. The game will be decided by talent, certainly, but also which team has the greatest desire to determine their own history.
The Grand Final will be played on Saturday 6th August.