PNG's JJ Peni to star in The Recruit Season 2
Tuesday, July 19 2016 @ 11:16 pm ACST
Contributed by: Troy Thompson
Views: 1,317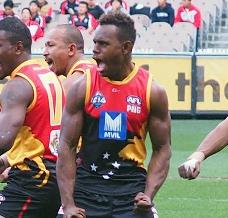 Out there, playing somewhere in Australia right now, is a weekend warrior the AFL recruiters have either never seen or missed, a man dreaming of an AFL career. He is 'The Recruit' and he will win arguably the biggest prize ever given away on a TV show – a guaranteed place on an AFL list.
THE RECRUIT is a 10-part reality series that follows a group of 'Recruits' who live and play together as a team, while at the same time competing against each other, in order to win this life-changing prize.
Season one of THE RECRUIT aired in Australia in 2014 and was one of the breakout hits for Foxtel's flagship, general entertainment channel, FOX8. The premiere of that series was one of the highest program launches in subscription television history, and finished as the channel's most watched series that year.
Season two returns with the legendary Mick Malthouse, leading the search for Australia's next sporting hero. Renowned for his record-breaking coaching career, Mick takes on the role of Head Coach.
Mick will be joined by the returning Executive Team comprising of former Hawthorn champion and FOX FOOTY commentator Ben Dixon as Assistant Coach, Port Adelaide's world class fitness guru Darren Burgess as High Performance Coach; and accomplished sports administrator Leigh Russell as Mind Coach, responsible for the mental strength and wellbeing of the Recruits.
The 2014 series saw the introduction of two international recruits (partway through the series), Irishman Padraig Lucey and American Mark Cisco. Lucey went on to be listed as an International Rookie with Geelong where he continues to play in their VFL team.
In 2016 PNG's JJ (Jeconiah) Peni is part of the show from the opening auditions and from the sneak previews offered up by Foxtel so far looks like he will be featured on at least the early episodes of the series after making it to the final 15 selected for the show. JJ has now been living in Australia for three years and last year was best afield for Balwyn Tigers reserves in the Eastern Football League Grand Final. He made his senior debut for Balwyn this season.
His profile and video can be seen here.
JJ also was part of the 2014 PNG International Cup winning team that defeated Ireland in the Grand Final on the MCG.
We did hear a whisper that Denmark's Mikkel Kjoege was going to audition for the series but for reasons unknown was unable to make the audition day.
If the 2014 formula is followed we may see some other internationals introduced later in the series, so we will keenly be watching for that eventuality.
THE RECRUIT is produced by McGuire Media exclusively for Foxtel. The 10-part series will air on FOX8 from July 20 (tomorrow night) on Wednesday nights at 8.30pm only on Foxtel in Australia.