A Young Girl's Journey
Tuesday, July 19 2016 @ 08:43 pm ACST
Contributed by: Wesley Hull
Views: 1,336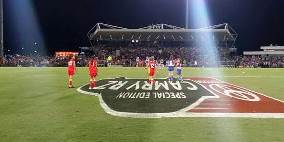 This is not a unique experience. Girls and women have been playing footy for many, many years. To see a team of girls running around as part of the half time entertainment at an AFL venue has been seen and done many times.
However, there is something a little symbolic, prophetic and visionary about seeing girls on a footy field in 2016, the year the AFL committed to the first ever national women's competition for 2017. Unlike most years before, this year a future, stark and defined, sits in front of any young girl or woman who takes to the fields of footy.
Such was the case on Saturday night in Cairns. As part of the NAB Auskick half time entertainment on-field, primary school girls from Gordonvale State School (to the south of Cairns) and Freshwater State School (loosely to the north) played each other in front of the 8500 appreciative footy fans under the glaring lights of Cazalys Stadium. Both schools were involved in the same match last year, but this year was different.
This year the footy world is very aware of Daisy Pearce (Melbourne Demons), Katie Brennan (Western Bulldogs) and Tayla Harris (likely Brisbane Lions). They are now role models to young girls and as the women's national competition grows in standards and stature their names will mean to young girls what Ablett, Franklin and Dangerfield mean to boys as players to aspire to emulate.
The girls on the field on Saturday night are all around the 10-12 age group – too young yet for the big time. But they are on a pathway now towards local junior footy if they want it – in Cairns a healthy youth girls competition exists as well as a senior women's league. Now the pathway extends from local to regional, state and as of next year national.
In eight to ten years from now when Daisy, Katie and Tayla have possibly retired their replacements could be the Mia or Tiffany or Summer or Caitlyn or any of the other girls that took the field last weekend for their respective schools. That is the beauty of entering into something as exciting as the national women's league - an entire new generation of girls gets to travel a path not wholly available in 2016 but fully open and available in 2017.
The girls who played on Saturday night have another appointment in August when they play each other for the local "Women In AFL Freshwater Challenge" which will be held for a fifth year. The game is designed to give the girls another opportunity to play but also to make a bold statement of thanks to the girls and women who have gone before at all levels of the game – on the fields and off – and recognise the true trailblazers who have never shirked an inch in chasing a dream of women's footy at the highest level.
But the highest level can only exist when it has all levels beneath supporting it and providing a healthy future – and that's where the girls at Gordonvale and Freshwater and across schools all over Australia and even internationally come into it. Daisy, Katie, Tayla and their team mates are the here and now and the immediate future. The girls in schools just beginning their journeys are the wider future.
And that future was proudly displayed on a windswept Cazalys Stadium in Cairns. Goosebumps formed when those girls left the field along the eastern boundary line and the enthusiastic crowd leaned over as one solid line to "high-five" the girls as they jogged off the field. That was one of the greatest endorsements of the place of women in footy this author has witnessed.
There will be more – much more – to come.
(Picture: Girls in action on Cazalys Stadium, Cairns - courtesy Tamara Blore)