Questions Answered, Finals Looming – AFLCNE
Tuesday, July 05 2016 @ 09:03 am ACST
Contributed by: Wesley Hull
Views: 942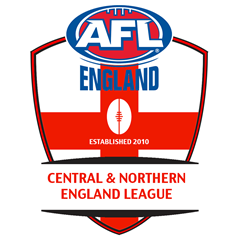 With just one round remaining before the AFLCNE finals series kicks off, some of the questions from last week were answered after last weekend's matches. The four finalists are now decided with Sheffield Thunder unable to cause an upset in their final match of the season. It means that the Mozzies, Scorpions, Wolverines and the Rams will contest the finals.
Also decided, though it was a decision already made, was the Merseyside Saints claiming (unwantedly, but not unexpectedly) this season's wooden spoon. They have one more match to throw caution to the wind and create a final round upset, but any unexpected miracle needed to occur on the weekend – it didn't.
The one enormous question still out there is which team will finish minor premiers. The Manchester Mozzies hold the spot currently after an excellent undefeated season to date. But the Nottingham Scorpions have chased them and sit one game behind the Mozzies and with a superior percentage. The pair will meet this weekend in arguably the match of the home and away season and a likely grand final preview. The winner will claim the minor premiership.
Weekend results saw the Manchester Mozzies too strong for the Tyne Tees Tigers, winning by 168 points. The Nottingham Scorpions hammered the Sheffield Thunder by 142 points. The closest game of the round was the clash between likely third and fourth teams, with the Wolverhampton Wolverines hanging on to down the Huddersfield Rams by 20 points.
Scores:
Nottingham Scorpions 27.20.182 d Sheffield Thunder 6.4.40
Wolverhampton Wolverines 19.15.129 d Huddersfield Rams 16.13.109
Manchester Mozzies 29.28.202 d Tyne Tees Tigers 5.4.34
Bye: Merseyside Saints
The final round features the aforementioned top of the table clash between hosts Manchester Mozzies and the Nottingham Scorpions. The Tyne Tees Tigers take on the Wolverhampton Wolverines at Huddersfield whilst the Rams meet the Merseyside Saints at their home ground. Sheffield Thunder's home and away season is now done as they have the bye However, all teams will remain active over finals time as teams compete for the premiership cup (1st to 4th) and the plate (5th to 7th).