Majak Leading The Way…For Now
Wednesday, May 18 2016 @ 10:34 am ACST
Contributed by: Wesley Hull
Views: 1,368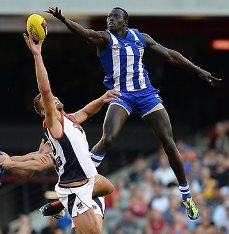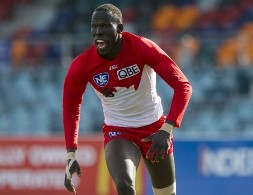 Majak Daw has a firm place in AFL history as the first Sudanese player to reach the highest level of the AFL. What might have been seen as a novelty at the beginning has now changed with Daw proving last weekend that he has much more to offer. He was retained as a rookie by North Melbourne last year and played his first senior game against Essendon on Saturday.
His return of 14 possessions, 5 tackles, 2 goals and 4 hitouts showed off his array of skills, despite a much publicised horror shot on goal, kissing on the run from only 15 metres out. But the outing proved that Majak can still play at the highest level.
But Daw's VFL form also reads well in 2016. His output of an average 13 possessions, 5 tackles, 25 hitouts and a goal a game has been impressive and confirms his ability to impact a football match. At this stage he is probably still holding the mantle of the best current player from African nations in the AFL…for now.
But in recent year's other Sudanese players, and from other African nations, have found their way onto AFL lists, and it is a good time to review their impact as we approach one third of the way through the 2016 season.
Aliir Aliiir made his well-earned debut for the Sydney Swans recently. He had only half a dozen or so possessions, but read the play well and looked at home. But hiss impact is best measured when looking at his VFL form. Aliir has amassed an average of 16 possessions per game so far this season in the NEAFL. His tackling has seen an average of almost 3 per game and his dash off half back has been invaluable to the Swans. His call up for senior selection was warranted and more matches will follow.
Mabior Chol excited Richmond, and AFL fans during the NAB Challenge in the pre-season. Since then he has continued to show that promise was no fluke. With an average possession rate of around 9 per game along with 3 tackles per game, Chol is holding his own and setting himself for greater things. He has also booted 6 goals for the Tigers. His occasional journeys into the ruck have also helped the Tigers' depth at hitouts and clearances. Chol has the potential to make a far bigger impact on the game.
Reuben William has done well at the Brisbane Lions in thee NEAFL. With an average of 15 possessions as a midfielder/forward per game, as well as averaging just under 3 tackles per game, William is also making great strides in his hoped for long AFL career. He would have kicked more than 2 goals this season but for inaccuracy, but that will come. As the Lions struggle this season it is hardly impossible that William, on current form, find that rookie upgrade he needs and debut for the Lions at AFL level before this season is out. He has drive also. His younger brother recently excelled at the National Diversity Championships and already claims he is far better than his older brother. Nothing like sibling rivalry to drive a player further.
Gach Nyuon at Essendon has been hit by injuries, and now suspension, which has limited his impact for the Bombers. But in his games to date in the VFL he has averaged 8 possessions and 9 hitouts per game. He has also snared a couple of goals. Nyuon is probably a little behind the rest of the pack by comparison, but ruckmen usually are. Both Nyuon and the Bombers would be aware of this and there is no rush for this "project" player.
So at this stage Daw probably still holds sway up against fellow African heritage players, (though Western Bulldog Jason Johannisen is not included in this list – born in South Africa). But he is being challenged by some other talent just bursting to take his mantle. The rest of 2016 will be interesting to see each player's continued development.