South Pacific battle it out in QLD U16 state champs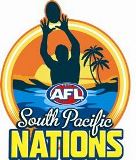 Over the last week the AFL South Pacific squad has battled it out in the Queensland Under 16 State Championships. Sides from across Queensland including Sunshine Coast, Gold Coast, North Queensland, Brisbane South and Brisbane North. In the past we've seen sides from PNG participate in various levels of QLD regional/state championships. The standard continues to improve and the task for the South Pacific side was a tough one.
| | |
| --- | --- |
| North QLD | 11-7-(79) |
| South Pacific | 2-5-(17) |
Goal Kickers:
Dominic Wario & Kelly Kaugla
Best Players:
Hewago Oea, Hapeo Bobogi, Alladin Kepea, Lonsey Lima, Adriu Naiyaga, Kelly Kaugla, Callum Harrison
Coaches Comment:
* Very competitive and fought hard all day * Extremely pleased with the effort and commitment considering the team all came together last night * Areas for improvement are - 1 Finding an opponent quicker when a turnover occurs, 2 Kicking to space and using our strength SPEED, 3 Apply more tackling pressure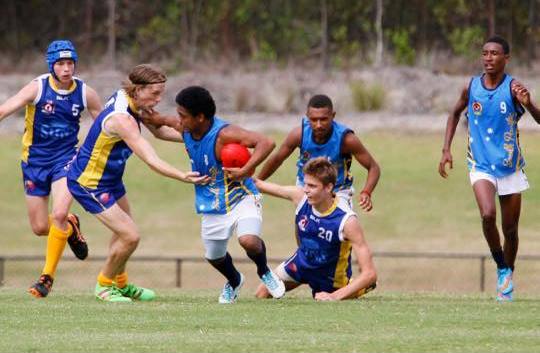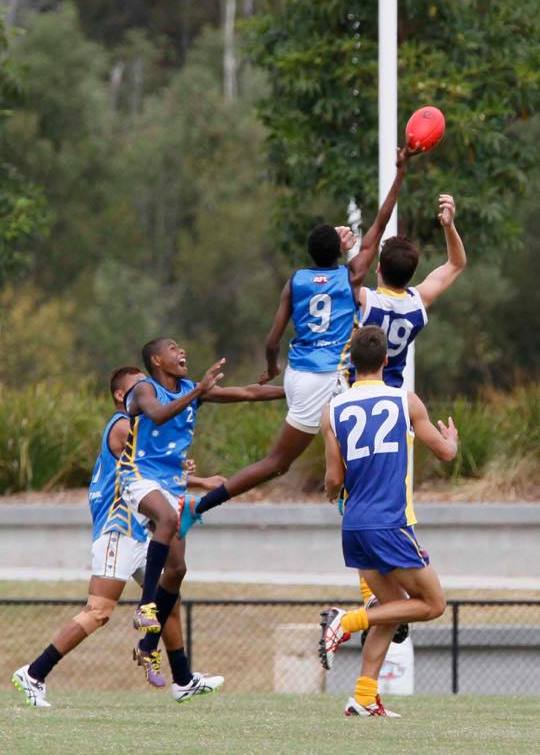 The match was close for 3 quarters, but a 2nd quarter goal blitz from the North QLD team set the game up for them. The South Pacific boys never gave up fighting to the end. Hawago had a terrific game off Half Back and Lonsey was strong and hard at the contest at both ends of the ground laying some great tackles! Alladin worked hard all game at Centre Half Back and Adriu tried hard all day. Callum had a tough day but never gave in.
| | |
| --- | --- |
| Brisbane South | 16-10-(106) |
| South Pacific | 0-3-(3) |
Best Players: Jnr Douglas Lai, Marvin Cannon, Sylvester Wesley, Alladin Kepae, Hewago Oea, Domonic Wario, Edward Mel, Hapeo Bobogi Coaches Comments: * Very slow start again, Brisbane South moved the ball very well. * Second Half was terrific! Restricting Brisbane South to only 5 goals, lifting our tackling and pressure causing many turnovers. * The ability to man up is still a major area to work on, Reminding the players what they do when we don't have the ball is extremely important. Jnr Douglas competed very well in the ruck winning 60% of his whitest, Marvin was superb through the middle of the ground and led the way as captain for game 2. Edward Mel worked hard all day in many position and Hewago again showed he is a very talented and classy player! Aladdin again was solid and competed extremely well all game at Full Back!
Sunday saw the boys attend the Brisbane vs Swans thriller at the Gabba in less than ideal weather.
| | |
| --- | --- |
| Brisbane North | 11-8-(74) |
| South Pacific | 4-4-(28) |
Goal Kickers: Dominic Wario, Hapeo Bobogi, Sylvester Wesley, Mathew Jessey Best Players: Hapeo Bobogi, Hewago Oea, Kelly Kaugla, Amata Itsamera, Mathew Jessey, Edward Mel, George Lagi, Terry George Coaches Comments: * Boys followed instructions very well * Some skill errors were costly when moving the ball forward * Huge improvement from Game 1 to Game 3! * Super proud!
Hapeo was terrific today all over the ground and Kelly had his best game for the carnival. Amata competed hard all day and Edward was a tackling machine! Mathew Jessey had a good game up forward and Terry George defended well. George never gave up and worked hard all day. At the presentations, Hapeo Bobogi was selected as player of the carnival. Players flew home on Tuesday; those in charge of the side were thankful to everyone who had worked so hard to ensure the boys had arrived in time and ready to play. They have represented their countries, cities, communities & families with pride!