ANZAC Day Clash At Villers-Bretonneaux
Wednesday, April 20 2016 @ 02:49 pm ACST
Contributed by: Wesley Hull
Views: 1,408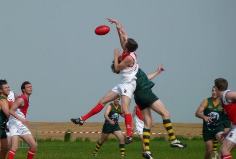 As the world pauses to commemorate the 101st ANZAC Day, and also the recognition of the 98th anniversary of the battle of Villers-Bretonneaux – a village on the battlefields of The Somme where Australian and allied troops held back the advancing German forces during World War One – the 8th annual AFL Europe ANZAC Cup will be played on the fields where so many gave their lives in battle.
The following article comes from the website off French Australian Rules football team, the Paris Cockerels. Writer, Francois Daniels, has given his own account of why this particular football match is so special to him as well as all others involved. He tells a great tale of the emotional connection to a simple game and the courage of the soldiers that fought for freedom.
This weekend we are proud to announce that six Paris Cockerels players will travel to Villers- Bretonneux, north of Paris, to play in the annual ANZAC day clash - five representing the French National Australian Football Team and another for the Expatriot Australian team who are coming from far and wide.  The village, liberated by Australian forces on the eve of the 2nd ANZAC day April 24th 1917, fiercely guards the links between our nations, born on the sacrifice of these young men all these years ago.  French national player Francois Daniels touches on why ANZAC Day is special to him.  You are invited this weekend to the tiny town which is at the very heart of the affection between our two great nations of France and Australia.
I was there at the very first ANZAC Cup, in 2009, playing for the French team. Footy was just beginning to grow in France, and 7 years after, we can see how much we have accomplished since: about 10 different clubs all around the country, a real national competition, and a national team who compete well with the best European nations. I discovered Australian rules when I lived in Perth, in 2007-2008. When I came back in France, I started to play for the Paris Cockerels since today and played also in the ANZAC Cup in 2011 (first 18-a-side game in Villers), 2012, 2013 and 2015.
To me, it has always been very special to play a game like this since the first time, in this atmosphere, in this city of Villers-Bretonneux where people are always nice and their welcome always warm, and where France is still grateful for the sacrifice that young Australian people did a hundred years ago. It enabled me to meet so many different people, French, Australian, and for example somebody who became one of my best teammates a few years later in Paris, Huw Ryan.
We have actually more than we thought in common at the beginning, as one of his great-grandfather fought in France, just like mine: one of them fought during 4 years in Belgium, Verdun, and the Somme, was injured several times but survived; the second one was recruited to fight on the eastern front of Europe for 2 years, in the "Armée Française d'Orient"; the third one was seriously injured in only two weeks; the fourth one was too young in 1918, but died in 1940 when the Nazis launch their attack on France. I realize a bit better now what they've had to live, how they've suffered and what they gave. Sharing these memories with the sons and daughters of the people who made so many sacrifices is really important to me, and playing footy is also a way to commemorate Australian people who left everything behind to help and rescue France. I'll be there again this year, also for the Dawn Service.
 Lest we forget.
The original story can be viewed on the Paris Cockerels website at: http://www.pariscockerels.fr/news/actualites-du-club/2016-04-18_anzac-day-2016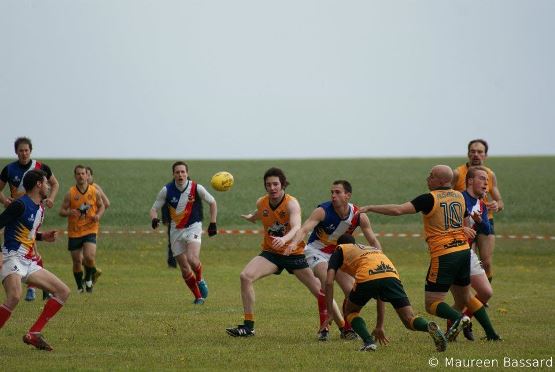 Photo: AFL Europe ANZAC Cup (Photo: Maureen Bassard)