Huge ANZAC Day weekend for AFLNZ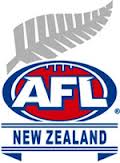 With the NZ AFL Premiership won by the Western Crows attention turns to – well – turns to more footy. The next few days across the ANZAC Day weekend will probably be the most hectic part of the annual AFLNZ calendar. There's rep footy for seniors, juniors, boys and girls, there's a combine and a decent feed to be had at the High Performance dinner & awards on Saturday.
The first event is Thursdays combine. Across the ANZAC Day weekend the NZ Hawks senior team will again front up to the AFL Academy side. New Zealand youth teams will play in a 2 game series against the Peninsula Saints from South East of Melbourne and the NSW Independent Schools.
The AFL New Zealand National Combine is being conducted (today – Thursday April 21st) at the Trusts Arena in West Auckland (5pm local time). The combine includes the following tests: 20m sprint; AFL Agility; Standing Vertical Leap; Beep Test; Clean Hands Test and Kicking Test. The best 35 athletes have been invited from the AFL NZ Academy and flown to Auckland to show their wares in front of AFL talent scouts. There are players from Auckland, Wellington, Bay of Plenty, Waikato, Otago, Waitakere, Northland, Harbour and Counties 'regions'.
In matches to be played on Friday and Sunday the New Zealand Kahu Youth Girls take on the Peninsula Saints Youth Girls. Again on Friday and Sunday the AFL NZ Academy Level 1 Hawks take on the AFL NSW Independent Schools. The AFL NZ Academy Level 2 Hawks take on the AFL South East U16 Peninsula Saints again on both Friday and Sunday.
The highlight game for the senior Hawks is Sunday afternoon at QBE Stadium (Albany, Auckland) when the NZ Hawks take on the AFL Academy (from 1 pm). This will be the 5th time the AFL Academy has toured New Zealand and are again being escorted by AFL National Talent Manager Kevin Sheehan. The Hawks are yet to register a victory but will be keen to acquit themselves well in their first big hit out at AFLNZ's newest 'AFL' ground at North Harbour Stadium.
| | |
| --- | --- |
| Andrew Howison | Melbourne |
| James Kusel | Wellington |
| Michael Boyce | Auckland |
| Aaron Harris | Brisbane |
| Samuel McKenzie | Wellington |
| Barclay Miller | Melbourne |
| Will Gregson | Auckland |
| Brandon Sucu | Auckland |
| Tim Stokes | Auckland |
| Joseph Baker Thomas | Melbourne |
| Brendan Clark | Brisbane |
| William Warbrick | Bay of Plenty |
| Jordan Drinkall | Auckland |
| Levi Inglis | Canterbury |
| Ben Hick | Auckland |
| Kyle Smith | Canterbury |
| Misilifi (Richard) Faimalo | Wellington |
| Ty Smith | Auckland |
| Kahurangi Robinson | Bay of Plenty |
| Christian Blackie | Otago |
| Heta Scarf-Matthews | Otago |
| Te Kopa Tipene Thomas | Northland |
| Jay Johnson | Canterbury |
| Troy Brown | Auckland |
| Fraser Stevens | Auckland |
| Emergencies | |
| Jessie Baty | Auckland |
| Alistair Maisey | Auckland |
| Josh Cunliffe | Auckland |
The leadership group is made up of Howison (Capt), Kusel, Boyce, Harris and McKenzie. Warbrick, Faimalo, Scarf-Matthews and Maisey were all Young Rising Star nominations.
Match Schedule (QBE Stadium, Auckland) Friday April 22nd 10am: AFLNZ Academy Level 1 Hawks vs AFL NSW Independent Schools 12pm: NZ Kahu Youth Girls vs Peninsula Saints Youth Grils 2pm: AFLNZ Academy Level 2 Hawks vs AFL South East U16 Peninsula Siants Sunday April 24th 10am: AFLNZ Academy Level 1 Hawks vs AFL NSW Independent Schools 11.30am: NZ Kahu Youth Girls vs Peninsula Saints Youth Grils 1pm: NZ Hawks vs AFL Academy 3pm: AFLNZ Academy Level 2 Hawks vs AFL South East U16 Peninsula Siants