French Finalists Become Clearer
Sunday, April 17 2016 @ 07:36 am ACST
Contributed by: Wesley Hull
Views: 965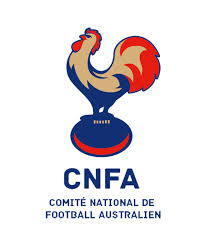 With the completion of Round 7 in the CNFA competition in France, results have effectively seen a separation between the top four teams and the bottom four. Barring something quite miraculous in the remaining two rounds, the Toulouse Hawks, Paris Cockerels, Paris Cockatoos and Cergy-Pontoise Coyotes appear destined to fight out the finals series in June.
Results so far in Round 7, split across last weekend and this weekend, have seen:
Cergy-Pontoise Coyotes 105 d Bordeaux Bombers 62
Paris Cockatoos 158 d ALFA Lions 47
Toulouse Hawks 176 d Perpignan Tigers 13
Paris Cockerels 154 d Strasbourg Kangourous 31
With victories this weekend to both the Cockerels and Hawks it means that fifth placed Perpignan are now unlikely to bridge the gap between themselves and the fourth placed team even if they win both matches.
The battle for top spot have been exciting of late with both Paris teams (Cockerels and Cockatoos) enjoying stints on top of the ladder as well as the Toulouse Hawks. There is evidence that any of the three could finish the season there, though it is heading towards another Paris Cockerels v Toulouse Hawks grand final. But, things happen.
For the Bordeaux Bombers, Strasbourg Kangaroos and ALFA Lions, finals are out of the equation, but each has shown promising performances at various stages this season and will throw everything at the opposition. The Kangourous have a tough last match against the Paris Cockatoos. Bordeaux's final match is winnable against the ALFA Lions, though in fairness the Lions could also win that match and they have another match against Perpignan to finish their season. It is very possible that the Lions are not yet done with and could finish their season with two wins.
There are certainly a number of possibilities across the final two CNFA rounds, meaning the excitement is a long way from over and all teams still have plenty to play for.