2016 AFL Boomerangs and World Team Squads Announced
Tuesday, April 12 2016 @ 06:29 pm ACST
Contributed by: Wesley Hull
Views: 1,456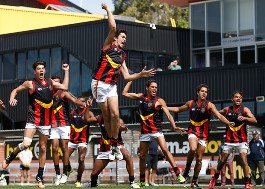 MEDIA RELEASE FROM THE AUSTRALIAN FOOTBALL LEAGUE
The AFL is pleased to announce the 2016 Boomerangs and World Team squads to compete at the 2016 NAB AFL Under-16 Championships on the Gold Coast in July.
Selected by AFL Club recruiters following the 2016 AFL National Diversity Championships held in Townsville, the respective squads of 30 young men has been chosen based on school attendance, leadership skills, and football ability.
The AFL Flying Boomerangs program is a personal development and leadership program for Aboriginal and Torres Strait Islander young men aged 14-16 years old, supported by Rio Tinto. Meanwhile the World Team is made up of the best upcoming AFL multicultural players from across the nation.
The AFL Flying Boomerangs will be coached by Jermaine Davies (WA) with Shannon Motlop (NT), Peter Yagmoor (QLD), and Peter Mongta (VIC) named as assistants.
Australia Post will once again support the World Team who will be coached by David Rodan (VIC). Patrick Karnezis (VIC), Anda Tyalana (QLD), and Tony Olango (NT) will be assistant coaches.
AFL General Manager Game and Market Development, Simon Lethlean, said the AFL Flying Boomerangs and World Team programs are a great opportunity for the best rising Indigenous and Multicultural talent in the nation to develop on and off the field.
"The Boomerangs and World Team squads have been selected by AFL Club recruiters following their impressive performances at the 2016 AFL National Diversity Championships in Townsville last week."
"Those selected will be exposed to the best training, coaching and mentoring, as well as personal development opportunities during the NAB AFL Under-16 Championships in July.
 "These are more than just programs, we are now preparing the next generation of young leaders and footballers with the skills, qualities, and experiences to become positive role models amongst their own families and within their broader communities.
"Over the past couple of years we have seen the Diversity Championships grow into a genuine elite talent pathway and we look forward to witnessing the next stage of development for these players, coaches, and umpires," Mr Lethlean said.
2016 Boomerangs squad:
Treigh Stewart (NSW), Che Munro (NSW), Malcolm Rosas (NT), Kaiya Jones, (NT), Joel Jeffery, (NT), Kyle Gowley, (NT), Dillen Brown, (NT), Brandon Rusca, (NT), Robert Campbell, (NT), Philemon Baira, (QLD), Hammiso Tabaui, (QLD), Tyran Hill, (SA), Anzac Lochowiak, (SA), Kobe Brown, (VIC), Jai Taylor, (VIC), Todd Garner, (VIC), Jamarra Ugle-Hagan, (VIC), Leiwyn Jones, (VIC), Tyrone Thorne, (WA), Robbie Johnson, (WA), Liam Henry, (WA), Jon Humphries, (WA), Cox Khai-Arn, (WA), Kaije Slater, (WA), Tarkyn Brogan-Henry, (WA), Malek Wallum, (WA), Elijah Taylor, (WA), Ashley Colbung, (WA), Christian Miller-Sabbioni, (WA), Rueben McGuire, (WA).
2016 World Team squad:
Harry Cooper (NSW), Jehad Chahrouk (NSW), Nicolas Jooske (NSW), Lodviko Cokanauto (NT), Tito Sheriff (QLD), Kelly Castle (QLD), Sam Cairns (QLD), Rowan Anderson (QLD), Isaac William (QLD), Bruce Reville (QLD), Ajay Hem (SA), Joel Groom (SA), Kostandinos Georgiadis (SA), Edward Gattick (VIC), Emmanuel Ajang (VIC), Mathiang Chak (VIC), Ako Warakea (VIC),
Paul Sidhu (VIC), Marlyn Staunton (VIC), Tot Jok (VIC), Biggie Nyuon (VIC), Soka Yugusuk (WA), Jaylen Grey (WA), Kwame Ekpe (WA), Sandi Mathiang (WA), Preston Rusario (WA), Atem Deng (WA), Dominic Kennedy (WA), Fred Ruemesha (WA), Noel Mancuvani (WA).
Photo: 2015 Flying Boomerangs team in war cry (AFL Diversity)