Paris Cockerels Win Inaugural Coupe Du Nord
Sunday, March 27 2016 @ 10:37 pm ACDT
Contributed by: Wesley Hull
Views: 1,480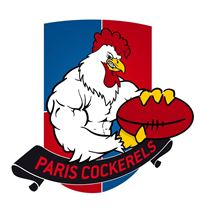 Just a week after the Perpignan Tigers took out the Coupe Du Sud for the best team in southern France, the Paris Cockerels have won the inaugural Coupe Du Nord to be crowned the best team in northern France.
The southern tournament has been a part of the CNFA landscape since first held in Perpignan in 2009. But in a bold move to create even more competitive opportunities for clubs, players and supporters, the Coupe Du Nord was started this year to be a co-tournament with the Coupe Du Sud, allowing a healthy north/south rivalry to be developed further with bragging rights for the best teams in both the north and south of France.
In a tournament which had a number of positives for all teams, the contesting teams were the Paris Cockerels, hosts the Cergy-Pontoise Coyotes, the ALFA Lions from Lyon and new team the Brittany Griffins featuring as part of the "All Stars" team which also included some Cockerels and Coyotes players.
Brittany's appearance in any capacity is another boost for the CNFA as the tentacles of Australian Rules football spread further across the nation. The ALFA Lions would also be well pleased with their efforts, coming away with one win, one loss and a draw against the Cockerels.
The Grand Final of the event was played between the Paris Cockerels and the Cergy-Pontoise Coyotes with the Cockerels marching to a 25 point win.
Final Score: Paris Cockerels 46 d Cergy-Pontoise Coyotes 21
Time will tell, but this new competition might yet be a means for other newer developing clubs, such as the Brittany Griffins, to compete initially in a smaller capacity as a pathway to becoming fully fledged clubs in the national competition in the future. The success of the southern competition this year saw the Perpignan Tigers grab their first silverware and the Tarragona Llops team from the Catalonia region of Spain compete, further developing the game.
But for now, the Paris Cockerels have another piece of silverware to place in their ever-filling trophy cabinet.