Friday, March 25 2016 @ 09:34 pm ACDT
Contributed by: Wesley Hull
Views: 4,616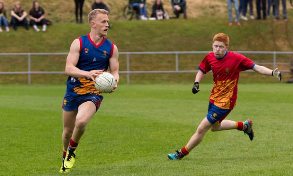 In this terrific story from The Guardian, written by Jonathan Drennan in Behind The Lines, the remarkable journey of Englishman Sam Willatt from experimenting with Australian Rules football in England to lining up in a VFL team in Australia is chronicled. Sam's journey hasn't has the fanfare of many AFL Irish, Sudanese or American recruits, yet is no less remarkable.
The Brit Who Went From Aussie Rules Novice To The Verge Of An AFL Career 
Sam Willatt arrived in Melbourne in November after graduating from university. The 21-year-old from Peterborough slept on a friend's sofa, managed to find part-time work as a lifeguard and also started training with an Australian Rules team after playing in England. That fairly well trodden path deviated radically after he was recruited into the Footscray Bulldogs VFL side, partnered to the AFL's top flight Western Bulldogs side. In layman's terms, this is the equivalent of an Australian playing Sunday League football in Melbourne, flying to London and getting picked up by West Ham's reserves.
Four years ago Willatt arrived at Birmingham University in search of a new sport at freshers week. He had played football and rugby at school without distinguishing himself in either and wanted a change. A poster for the Australian Rules team caught his eye and he found himself on a rutted rugby field trying to get to grips with the game. "I fell in love with the sport instantly. It was this amazing range of so many things, a different range of skills and speed, but I really was terrible initially. I was just trying to survive in all honesty."
The sport held his attention completely between lectures. He spoke to his friends about AFL being played half the world away and watched recorded games to build his knowledge. Willatt was captivated by the game and studied its intricacies in his university bedroom. He trained alone to build muscle and fitness, and progressed to the Great Britain squad that played an international competition in Melbourne in 2014. After a run of games against a variety of countries, he was noticed as one of the top amateur players outside Australia and realised that he could take the sport further.
An invite to a select European team to play the Australian Institute of Sport gave him a further indication of his progress. "You are playing these guys who have been kicking an Australian football since very early childhood and sometimes you are just marvelling at their skills, but equally, at times in the game, I realised that I could absolutely hold my own, and it gave me confidence that I could do well in this game if I really pushed myself."
After achieving everything he could playing for Birmingham University, Willatt went in search of the best level of Australian Football within England and found it at Regent's Park in London, where there has been a longstanding Aussie Rules league filled with skilled Australian expats and British enthusiasts. "I wanted to play the best Aussie Rules I could, so I went to the North London Lions, and commuted from my home in Peterborough. I worked as a lifeguard during the week and travelled to London for games. They gave me extra coaching and really looked after me. The standard was so much higher than what I was used to. You're playing with some Australians who are exceptional and I was on a constant learning curve."
After winning the AFL London Premiership with the North London Lions, Willatt boarded a plane to Melbourne. He had no team interested, simply a vague dream to play at the highest possible level and the promise of a friend's sofa for as long as he needed it. Jet lagged and tired, Willatt opened his laptop in Melbourne and emailed every coach in the Victoria Football League. He told his story, writing about his insatiable desire to play in the AFL, and hoped that someone would reply. His email inbox stayed empty for days until he received a reply from Footscray Bulldogs coach Ashley Hansen.
To read the rest of this story, follow the link: http://www.theguardian.com/sport/behind-the-lines/2016/mar/25/aussie-rules-novice-university-western-bulldogs
Photo Credit: Peter Saxon/Yellow Dog Photography