Perpignan Tigers Win Coupe Du Sud
Sunday, March 20 2016 @ 10:55 pm ACDT
Contributed by: Wesley Hull
Views: 1,026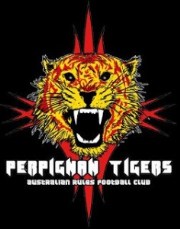 The battle for the south of France – the Coupe Du Sud – has been won by the ever improving Perpignan Tigers this weekend in the annual tournament, this year held in Perpignan. The tournament featured teams from the Toulouse Hawks, the Bordeaux Bombers and the Spanish team the Tarragona Llops from the Catalonia region.
Since returning to the CNFA, the Tigers have continued to improve. This victory and accompanying silverware is a just reward for the determination shown by the club to not just return to battle, but strive to succeed.
The results of the round matches were:
Toulouse Hawks 94 d Tarragona Llops 1
Perpignan Tigers 43 d Bordeaux Bombers 30
Bordeaux Bombers 62 d Tarragona Llops 20
Toulouse Hawks 43 d Perpignan Tigers 23
Toulouse Hawks 38 d Bordeaux Bombers 15
Perpignan Tigers 48 d Tarragona Llops 35
3rd Place Playoff – Bordeaux Bombers 63 d Tarragona Llops 8
Grand Final – Perpignan Tigers 54 d Toulouse Hawks 33
With the Coupe Du Sud, and the participation of the Paris Cockerels at the Champions League tournament in Amsterdam, there were no CNFA matches this weekend. Round 7 kicks off on April 9th when the Cergy-Pontoise Coyotes meet the Bordeaux Bombers and the ALFA Lions host the Paris Cockatoos. The rest of the round will be played the following week when the Toulouse Hawks meet the Perpignan Tigers and the Strasbourg Kangourous host the Paris Cockerels.