AFL Vanuatu season 2016 gearing up


2015 presented some serious challenges to AFL Vanuatu - more specifically, the weather - with Cyclone Pam ravaging the archipelago some 53 weeks ago. With ni-Vanuatu leaders such as Kilip Andrew (drawing on his experiences playing footy in Australia with Olinda-Ferny Creek and taking on an AFL Development officer role in 2016) and Robin Jacob (who in early 2015 took the highly uncommon path of sitting the AFL coaching course at Etihad stadium in Feb) able to lead from the front the season was resurrected and with guidance from a new committee headed by president David Beauchamp; now AFL Vanuatu is preparing for a very busy 2016.
New programs include: • New Senior competition with new teams • New Pikinini kik program • New School competition for Under 12 and Under 15 teams, involving Schools from Port Vila and all of Efate.
Senior Competition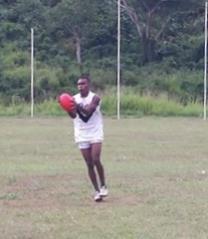 Utran (left) has returned to the field after a couple of years absence.
The 2015 Season was the most successful season of AFL in Vanuatu. The highlights of the AFL Football Festival included the local Grand Final between Malapoa College and Seveners AFL teams with Malapoa Winning the Premiership; also an exhibition game involving Concordia college from Adelaide (South Australia) and the National AFL team "The Volcanoes".
In Season 2016 there are a number of new teams preparing to play in the Season commencing in July. Any person wanting to form a new team or play for and existing club should contact AFL Vanuatu.
New School Competition
In 2016 AFL Vanuatu will be conducting a new School competition and all Schools in Efate will be Invited to participate. In April there will be training for School teachers who are Interested in having AFL programs at their School. AFL Vanuatu staff will be working with Schools and teachers to allow Pikinini of all ages of to participate and enjoy AFL programs.
Saturday Pikinini kik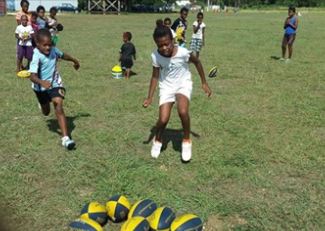 FREE Pikinini Kik will commence on Saturday March 26th. Pikinini Kik teaches the Skills of AFL in an organised and fun environment and helps Pikinini with being fit and healthy. This program is available for Pikinini ages 5 – 14 years. More details are on the AFL Vanuatu facebook page and Website www.aflvanuatu.com.
For more information contact AFL Vanuatu Program Manager – Nancy Patterson - 7762032.