Changes at the top as AFL replace two Commissioners
Wednesday, February 17 2016 @ 11:29 am ACDT
Contributed by: Troy Thompson
Views: 1,116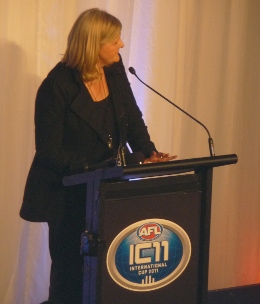 The AFL General Meeting on March 17 will receive two nominations with strong AFL Club experience to replace retiring Commissioners.
The AFL Commission meeting on Monday accepted the recommendations of the Nominations Sub-Committee to nominate Andrew Newbold and Gabrielle Trainor to the AFL Commission to replace Chris Langford and Sam Mostyn (pictured left at the IC11 opening event).
The Nominations Committee was chaired by AFL Commission Chairman Mike Fitzpatrick and included AFL Commissioner Richard Goyder, along with the President of the Richmond Football Club, Peggy O'Neal and the Chairman of the Port Adelaide Football Club, David Koch. Andrew Newbold has recently stepped down from serving as President of the Hawthorn Football Club, and has had a very successful commercial career as a lawyer, manager and entrepreneur. Andrew has a deep understanding of the AFL and its role in the Australian social and corporate arenas, and extensive experience in the corporate sector. Andrew is currently a Director of Bryson Funds Management PTY LTD, RealAs, and Sports Education Development Australia.
He was a Director of Hawthorn FC for 13 years and was appointed President in 2012. During his term as President, the club won three Premierships and played in four successive Toyota AFL Grand Finals, had four years of collective club profit and signed off on plans for a new home and development at Dingley.
Gabrielle Trainor is a former lawyer, journalist, public sector executive and consultant in public policy, government relations and issues management. She has more than 20 years' experience as a non-executive director in entities such as in urban development, major projects, transport and infrastructure.
She is a director of two ANZ Banking Group subsidiary boards, of Infrastructure Australia, the Barangaroo Delivery Authority and Clarius Group. She chairs Barnardo's Australia and the National Film and Sound Archive and has a number of other appointments including on the board of trustees of Western Sydney University and Business Events Sydney. She sits on the board of agenda-setting indigenous organisation Cape York Partnership and chairs the Aurora Education Foundation for indigenous students.
Gabrielle was appointed as an inaugural Director of the Greater Western Sydney Giants FC in 2011 and chaired the Giants' Integrity Committee. She has lifelong experience in football, ranging from volunteering for the Willoughby Wildcats in the Sydney AFL juniors competition to sitting on the AFL Commission NSW/ACT, where she championed the movement to better integrate the Sydney Women's AFL with the Commission.
Her grandfather, Frank, and father, Tony, were Presidents of North Melbourne for a total of 22 years.
Other AFL Commissioners with AFL club board experience include Mr Goyder (Fremantle), Jason Ball (Sydney) and Mike Fitzpatrick (Carlton).
Mr Newbold is the first former AFL Club President or Chairman to join the AFL Commission since Bob Hammond (Adelaide FC) in 2001.
AFL Chairman, Mike Fitzpatrick said the two candidates were outstanding, bringing recent club board experience, and a depth of corporate, Government and not-for-profit leadership over many years.
"I only recently became aware Andrew might be available to join the AFL Commission as part of regular discussions on key issues within the game that our Commission has with all club leaders. In the last few weeks, I was able to convince him to put his name forward.
"Gabrielle is such a capable person, and she has great passion for the game. With her experience as an AFL Commissioner (NSW/ACT) for ten years, and as a director at an expansion club, Greater Western Sydney, she has done the hard yards as a volunteer.
"We are delighted to have two extremely strong candidates, both with current club board experience. Andrew and Gabrielle will bring great insight and new energy to the Commission, and we look forward to their contributions," Mr Fitzpatrick said.
Mr Fitzpatrick also thanked the two retiring Commissioners for their long and very exemplary service to the AFL.
Sam Mostyn was the AFL's first woman Director, who joined the AFL Commission in 2005.
Sam has been a strong advocate for the AFL's Respect and Responsibility policies and indigenous programs. She has been a driving force in the development of a national women's league and participation for women and girls playing at all levels of the game, as well as bringing high-level legal, business and corporate knowledge to the role.
"Sam has been a trail blazer in her role. Her ten years of commitment to the AFL Commission has made the AFL a better, stronger and more community-minded organisation, and she will leave an indelible stamp on the game," Mr Fitzpatrick said.
Chris Langford, decorated premiership player and captain of the Hawthorn Football Club, twice All-Australian, AFL Life Member and member of the Australian Football Hall of Fame, and successful businessman, will retire after serving more than 16 years with the AFL Commission.
"Chris has been a great servant of the game, and he bought a player's sensibility as well as great intelligence to the AFL Commission. In addition, his real estate knowledge has been of great value as we worked through stadium and training and administration deals. He will be greatly missed and our game is much better for his long service at the top of the code," Mr Fitzpatrick said.
The Commission will farewell the two retiring Commissioners at the March AGM.