Fitzpatrick Cup 2016 – Birmingham Defends Title
Sunday, January 24 2016 @ 07:18 pm ACDT
Contributed by: Wesley Hull
Views: 1,192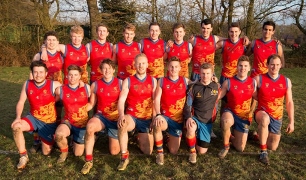 The third instalment if the Fitzpatrick Cup Australian Rules football tournament was played this weekend at the University Of Birmingham fields. The tournament commenced in 2013 with the University College Cork (UCC) winning the inaugural event against Oxford University. The event was won in 2015 by University Of Birmingham and this time they had the task of defending their title.
(Picture: 2015 Winners University Of Birmingham defend title – Courtesy AFL England)
The teams this year consisted of University Of Birmingham, Oxford University (the oldest Australian Rules club in Europe), their arch rivals Cambridge University, two teams entered by University College Cork (UCC) and for the first time a team from the National University Of Ireland, equally known as Maynooth University.
The tournament, named after the current AFL Commission Chairman and former Rhodes Scolarship graduate from Oxford University, Mike Fitzpatrick, is open to any European university teams. Each year the tournament has grown in numbers and stature.
This year it was the University Of Birmingham being too good for all others and winning back to back titles. After winning their two round matches against UCC Team 1 and Cambridge University, they went on to defeat the UCC Team 2 in the semi-final before downing the UCC Team 1 team in the final.
Scores for the tournament were:
Game 1- University Of Birmingham 3 3 21 d UCC (Team 1) 1 4 10
Game 2- UCC (Team 2) 6 4 28 d Maynooth University 2 2 14
Game 3- UCC (Team 1) 5 3 33 d Cambridge University 0 1 1
Game 4- Oxford University 5 5 35 d Maynooth University 2 1 13
Game 5- University of Birmingham 7 5 47 d Cambridge University 4 4 28
Game 6- Oxford University 3 4 22 drew with UCC (Team 2) 3 4 22
Semi Final 1 – University Of Birmingham 10.10.70 d UCC (Team 2) 1 2 8
Semi Final 2 – UCC (Team 1) 3 4 22 d Oxford University 3 2 20
Grand Final – University of Birmingham 6 6 42 defeated UCC (Team 1) 0 7 7
The win for the Birmingham team gives them a huge chance to chase a rare three-peat when the 2017 tournament comes along. But it also gives the other universities plenty of time to plan for a Birmingham demise in what is sure to be a fascinating fourth instalment of the Fitzpatrick Cup.