Northern Storm Rolling In
Sunday, January 24 2016 @ 08:22 am ACDT
Contributed by: Wesley Hull
Views: 1,209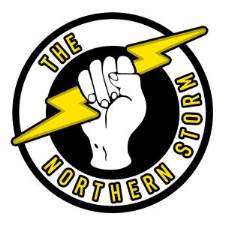 Last year the AFLCNE (Central & Northern England) announced that the 2016 season would see the creation of a new representative team. The new entity would be designed as an 18 per side team, preparing the AFLCNE players for 18 a side formats, particularly at representative level.
The new team has announced that it will be called the Northern Storm.
According to the AFLCNE website, "the Central and Northern England League will be forming a League representative side with a view to playing 18 a-side games as opposed to the leagues 9s format. The aim behind this is to give our top British talent more experience of the 18s game and help them to prepare for national team selection and hopefully playing for the British Bulldogs.
All clubs have been asked to put forward the names of their players who they feel would be suited to playing in this representative team. The final selections will be made by Ian Mitchell (Wolverhampton Wolverines) and Will Sykes (Merseyside Saints).
The Northern Storm will hit the ground running and will "join a training session/friendly fixture with the English Dragonslayers in Huddersfield on April 2nd before taking part in the AFL London Pre-season tournament on April 16th."
The squads for the upcoming clashes against the England Dragonslayers and the AFL London pre-season tournament will be announced on the AFLCNE website on January 31st. To visit the website, go to:
http://wwws.aflcne.com
The AFLCNE 2016 season will commence with the first of three scheduled Lightning Rounds on April 23rd in Merseyside where the new Merseyside Saints will play their first official scheduled AFLCNE match, followed by the Round One fixtures on April 30th in both Birmingham and Gosforth, the new home of the Tyne Tees Tigers.