Glass impresses on track and goes home
Wednesday, January 20 2016 @ 11:26 am ACDT
Contributed by: Troy Thompson
Views: 1,101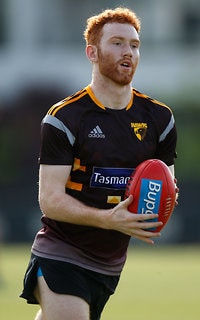 Irish recruit Conor Glass has completed his first two weeks on the track as a Hawthorn player. He did spend time in Melbourne with the Hawks in January 2014 and 2015, but this time he was officially on the list having been drafted as an international rookie in the 2015 National Draft.
At that time it was made quite clear that he would not join the Hawks full time until his studies were completed around mid-year 2016. But he did have time to fit in a few training sessions and attend the AFL's induction annual AFL Players' Association/AFL Induction Camp.

The two-day camp will saw all 110 attendees, from all 18 clubs, briefed on a number of topics including the importance of wellbeing, career development, financial education, personal brand and respectful relationships, as well as rules around illicit drugs, match fixing and anti-doping.
Back at Waverley, Glass was easily spotted on the track with by his bright red locks, observers were impressed by his running ability and his skills with the oval ball given most of his playing experience in Ireland has come with the round GAA football.
The club will be quite keen for his timely return mid-year given the history of a number of Irish recruits in the past being homesick after initial stints in Australia and seeming reluctant to return once on home soil.