Kingdom Kangaroos In Full Recruit Mode For Season 2016
Wednesday, January 06 2016 @ 10:59 am ACDT
Contributed by: Wesley Hull
Views: 1,292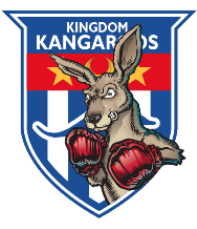 Some clubs across the world are brushing off the lethargy that goes with the festive season and cranking up their machines for the 2016 season. Many clubs, however, such as Scotland's Kingdom Kangaroos have used their off season to shore up their futures and prepare to hit the 2016 season running. The following article from the Kingdom Kangaroos website looks at the club's off-season recruiting drive.
By all accounts the Kingdom Kangaroos had a good year in 2015, a few league wins saw them finish 3rd in the SARFL.
Long time player and secretary for the club Charlie Snedden said that while his side were improving year on year, there was still a lot to do in 2016.
"2015 was a good year for us, we had a few players come to us from the local rugby clubs in their off season" he said.
"On paper we had a great team, unlike last year, it was a bit easier to get a team on the field each week as our presence in the local area has been noticed."
The side have roped in Mark Flanagan as their coach again this year, and he has brought extensive knowledge to the team.
Snedden said the club were on "full blown recruitment drive" and that coach and a new alliance with Kirkcaldy High School and the Active Schools coordinators were sure to make all the difference.
"We may have a few retirements from last season, all difficult to replace in terms of talent, experience, commitment and drive," he said.
"There is always space for a few retiree cameos if we can twist arm or two.
However, I am quietly confident that we will post more wins than last season, but the most important thing is to continue building or club, to create a sustainable and enjoyable club atmosphere with a culture and attitude that will engender success in the future."
Snedden "We are a very inclusive team that caters for and enjoys a wide range of ages, personalities and skill levels."
Following a recent award of £1700 from the Coalfields Regeneration Trust the team will be embarking on targeted recruitment drive.
"We want to increase female participation in AFL and provide a pathway for junior girls and boys to progress and continue playing footy into the women's and juniors open competitions, as well as welcoming anyone who wants to come and try AFL at any age or point of life.
To follow the Kingdom Kangaroos club, go to their website at: http://kingdomkangaroos.com/