Tigers Burning Bright
Saturday, January 02 2016 @ 08:09 am ACDT
Contributed by: Wesley Hull
Views: 2,106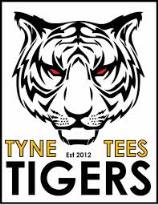 As teams around the world are enjoying their breaks from footy, either in their off seasons or for the festive season, many are happy to put football on the backburner for a while and focus on other things. But many clubs, like the Tyne Tees Tigers in the AFLCNE competition in England are using the down time to consolidate their longer term futures.
On the back of a promising finish to the 2015 season where they won four of their last five games (one by forfeit) including huge wins against eventual finalists Sheffield Thunder and Huddersfield Rams, the club has now found a new home to strengthen its position in the league.
According to the AFLCNE website, "AFLCNE club the Tyne Tees Tigers are looking to the future with an exciting development for their club, announcing their new home ground and training venue for 2016. Based in Gosforth they will be becoming affiliate members of the Gosforth Sports Association alongside Gosforth Rugby Club and Newcastle City Cricket Club."
"Tigers President Phil Martin had this to say about the move 'It's a fantastic opportunity for the tigers to be a part of a community sporting venture and the permanent home for both training and playing opens the club to be more accessible and part of a wider community'."
"The Tigers are looking for opponents for a match to help celebrate the move in March. If your club is interested please get in touch with Phil via email at: president@tyneteestigers.co.uk
Previously the Tyne Tees Tigers had been based at North Shields to the east of Newcastle city, but the new location at Gosforth in to the north of the city, placing the club more centrally to the Newcastle population base from which it would hope to recruit.
The move adds further excitement to the AFLCNE for the 2016 season as they also welcome new club the Merseyside Saints into their eight team fixture as well as pursuing an 18 per side representative team as well as a new Plate competition at finals time where the teams which miss out on a top four placing finishing from fifth to eighth) get to fight for another trophy.
The 2016 season kicks off with the AFLCNE rep side playing the England Dragonslayers on April 2nd and a rep team entering the AFL London Pre-Season Cup on April 16th. The Haggis Cup is on April 9th.
A Lightning Premiership will be played at the Merseyside Saints home grounds on April 23rd before the Round One clashes on April 30th when the Tyne Tees Tigers get to use their new home when hosting the Huddersfield Rams in another historic day for the young club.